Having Pets While in Quarantine is 'A Stress Reliever'
As Gabriella Lujan's parents come home from work, they are met with their two dogs, Riley and Ruby, who are happily wagging their tails. Despite having to adapt to a new schedule due to the school closure and shelter-in-place order put in place because of COVID-19, moments like these make the Lujan family feel grateful that they have pets that can keep them company while staying at home during these times.
On March 13, following Governor Pritzker's orders, CPS announced that all in-person classes would be canceled until March 31 to ensure that students remained at home and not be exposed to COVID-19. Due to the increase in the number of cases in the state of Illinois, Gov. Pritzker canceled the rest of the academic school year on April 17. The shelter-in-place order was also extended two more months, ending on May 31. 
Because of the school closure and shelter-in-place order, many people have been staying inside and away from family and friends, but others, like zoology teacher Ms. Heath, have their furry friends to keep them company.
When it was initially announced that school would transition to remote learning, Heath had to take all of the zoology class pets home with her to take care of them. Now, she has ten guinea pigs, two gerbils, two fish tanks, one leopard gecko, one bearded dragon, and one fire-bellied toad.
For Heath, who has had multiple classroom pets and is experienced in caring for various types of animals, pets can be very important to their owners because of the connections that they build and the different qualities that they possess. 
"Pets can be loyal, loving, and great companions and they don't care how we fit into the rest of the world," Heath said.
According to a survey conducted by the Human-Animal Bond Research Institute, 80% of pet owners surveyed said that having a pet makes them feel less lonely. 
That companionship and bond can be beneficial to people when spending a lot of time at home, just like it is helping Lujan, Div. 181, and her family now.
When the school closure was first announced, Lujan recalls having mixed feelings about the changes taking place. 
"It felt bittersweet," Lujan said. "Not being in school meant that we would reduce our exposure to the virus but it also meant that we would not be able to interact with our normal environment."
But as Lujan spent more time at home, she became extremely grateful that she had two dogs and a fish that she could spend time with. Any interaction with her pets, no matter how small, always brightens up Lujan and her family's day. 
"I am more grateful for having pets, especially during these uncertain times," Lujan said. "They are a stress reliever in our everyday lives."  
Pets do not only provide companionship but they also help people be active and exercise. According to a survey conducted by BMC Public Health, pet owners spend an additional 22 minutes walking outside than people who do not own pets. 
For Valentina Flores, Div. 161, who now has plenty of free time at home, having a pet during this time has helped her be active outside.
Flores got her dog, Mocha, a year ago, and she has noticed that having more free time at home has allowed her to take Mocha out on extra walks and spend time with her family more often. Now, Flores spends more time playing with Mocha in their backyard as well.
"We take her on so many walks. We take her everywhere we go," Flores said.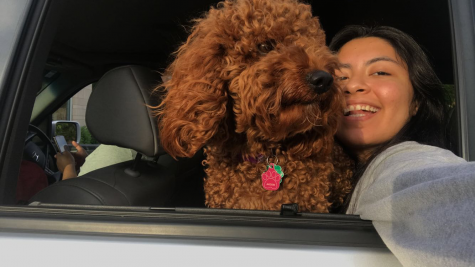 Although having pets can be beneficial and rewarding, some challenges come along with them as well. 
While Heath has had plenty of company at home, there are times when it has been stressful to take care of all the animals and keep track of their different needs.
"I do enjoy them and I do get attached," Heath said. "But these [animals] were meant to be in a big classroom with a lot of students caring for them." 
Lujan and Flores also agree that being a pet owner can be tricky because of the trouble that their pets get into at times, which can be frustrating. 
But despite the messes that their pets may make at home, Lujan also believes that having a pet is very rewarding and a great addition to bring into a family.
"I highly recommend bringing a pet into your life," Lujan said. "Even when others may not be there for you, they always are."