Lane Tech LSC votes to remove Indian symbol, vote deemed to be non-binding by CPS
Lane's Local School Council (LSC) has voted unanimously 12-0 to remove the Indian symbol from the school. 
Despite the vote, at the beginning of the meeting, LSC chairperson Emily Haite, said that the school received news last week that the Lane LSC vote is non-binding, meaning the decision is not 100% final yet. The LSC decided to go forward with the vote.
The vote was held via Zoom due to the coronavirus pandemic.
Prior to the vote, public participation was held to get input on the issue.
During public participation, 32 people spoke, with 21 of the speakers calling for the school to remove the symbol. All speakers had up to two minutes to talk, and public participation was limited to an hour.
This was in addition to a questionnaire created by the "Symbol Action Committee," which was made up of three members of the LSC: Benjamin Wong, Maureen George and Matt Beaudet. Through emails and social media, the questionnaire was sent to students, faculty, alumni and community members.
Of the 9,135 responses, 52.5% wanted the symbol to be discontinued. A majority of the responses were from alumni, with 59.6% of respondents identifying as alumni, and 60% of alumni who took the survey wanted to keep the symbol, but every other group had more people who wanted to discontinue the mascot than continue it. This included community members, faculty, staff, students and parents and guardians.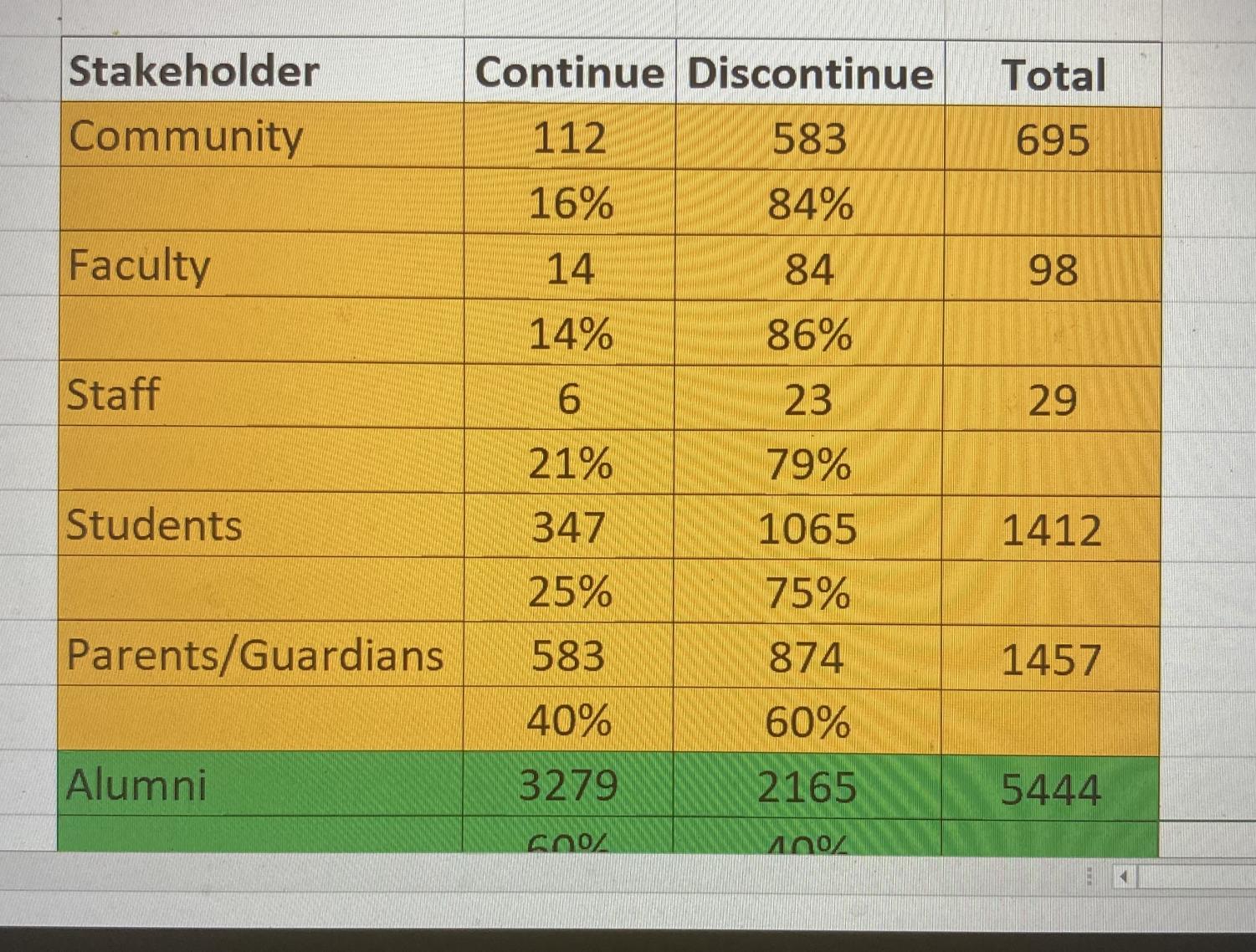 This all led up to the main event: the discussion and vote on the symbol.
Haite put forward a motion to continue the "Indian" symbol. This was met with the aforementioned 12-0 unanimous vote to remove the symbol. Haite voted against her own motion. One member was absent from the meeting.
Principal Brian Tennison said he will talk with the CPS equity officer to see what the next steps are in the process. "I will reach out to the equity office and the network and confirm the official steps, and express the will of the LSC," Tennison said at the end of the meeting.
The CPS equity officer had sent a letter to the LSC encouraging the LSC to remove the symbol, which was read during the meeting.
Haite said she was told that an "administrative vote" will also be held to determine the final outcome.
"As I've said before this is not a binding vote. We will let the equity officer and our network know and then we were told it is an administrative vote, but they didn't tell us exactly who the administrative people were that are voting on it," Haite said during the meeting. 
"Once the decision is official that we are no longer the Lane Tech Indians, I presume they will have us, as talked about in the letter from the equity office, that we will have to form a committee and look into how we go about it," Haite said later on. "Their terminology was to 'launch a codesign process to identify a new symbol.' So that will be our next steps once we are told that that's what we should do."
This story is developing