School year to begin with remote learning: CPS
On the heels of news of a potential Chicago Teachers Union (CTU) strike vote, as well as Aug. 3's Chicago Teachers Union (CTU) rally and car caravan advocating against in-person instruction, CPS today announced that the school year will begin with fully remote learning.
At the end of the first quarter, the district will evaluate whether it is safe to resume in-person classes. It has not yet released the health metrics it will use to make that ruling.
In the meantime, CPS plans to distribute "36,000 devices to children who still need them prior to the start of school," in addition to the 128,000 devices distributed last school year, according to the email sent to CPS stakeholders. The district also plans to offer "free, high-speed internet access to approximately 100,000 CPS students from limited-income backgrounds through our Chicago Connected initiative."
Though the district will release a more detailed plan on Friday, it has said that remote learning will look fundamentally different this year.
"Each day, students will be engaged for the entirety of a typical school day through a combination of live real-time instruction with classmates and teachers, small group activities, and independent learning," the email read.
This is a change from the spring's plan, which for Lane Tech included four days of instruction — fewer than eight hours per day — which was not always real-time (often, it depended on the teacher).
The CTU supports the move, but says that there is still a ways to go.
"Our remote learning experience must include the infrastructure, professional development, family outreach and staff support to make remote learning robust and enriching for every student. We have a long way to go and a short time to get there," an Aug. 5 CTU press release read. "CPS must immediately start planning transparently and in partnership with our union to provide every student the educational, social and emotional supports they need to learn and grow."
The press release echoes some of the demands of Monday's protest, which was a part of a national day of action. About 100 members from the Chicago Teachers Union both on foot and in car, and other community organizing groups, gathered at Randolph and LaSalle with a tapestry of demands for Chicago and Illinois elected officials.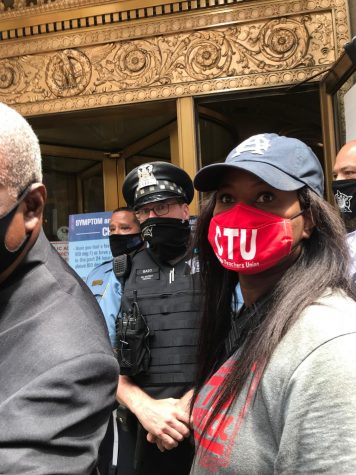 In addition to a (now met) demand that CPS make an announcement that classes will be fully remote in the fall, the protesters' letter, signed by 19 groups, stipulated a rent moratorium, the elimination of standardized testing, police-free schools, universal child care for all in-district families and a limitation on public gatherings in general, among other things.
Though beginning the school year with remote learning is the teachers union's chief goal, union president Jesse Sharkey said at a Monday morning press conference at the union's Near West Side headquarters that there is significant overlap among these issues.
"As we stand here today, we're well aware that $600 supplemental unemployment insurance just expired. We're well aware that the moratorium on evictions has just expired. We're well aware that many working class communities in this city are suffering and have real need," he said. "And that is why this demonstration is not just about 'Don't open schools right now; start with remote learning.' We do demand that, but we also demand assistance for the struggling communities in this city."
This morning's press release continued, "The mayor must step up her efforts to make sure that all of our residents and neighborhoods—particularly Black and Brown communities which have born the brunt of illness and death from the COVID-19 pandemic—are protected from the inequity that this virus has intensified. She must make her campaign commitment to equity a reality this summer by providing working families a guaranteed basic income, and every Chicagoan access to health care, living wages and affordable housing as we manage this pandemic."
SPRING 2020 REMOTE LEARNING
CPS' early desire to resume in-person learning has perhaps been informed by the marked racial disparities in the spring's remote learning session.
As the Sun-Times summarized, "Vulnerable populations, such as kids who are homeless and black and Latino students whose families have been disproportionately hurt by the coronavirus pandemic, are logging on at lower rates. Tens of thousands of students aren't being reached by their schools at all despite computer and internet access having largely been achieved."
These disparities existed not only in general remote learning engagement, but also in grading: Black and Latino students were more likely than their White counterparts to earn Passes and Incompletes instead of letter grades.
In an attempt to bridge the digital divide, CPS in the spring distributed around 100,000 electronic devices, which resulted in about 93% of students having digital access, according to the district. CPS plans to continue this program into the fall, with a renewed emphasis on providing students with access to broadband.
Despite these efforts, however, approximately "58,000 kids, about a quarter of all students, didn't log onto a Google digital learning site — the platform used in the vast majority of CPS schools — at all the week of May 11," after CPS had begun electronic distribution, according to the Sun-Times.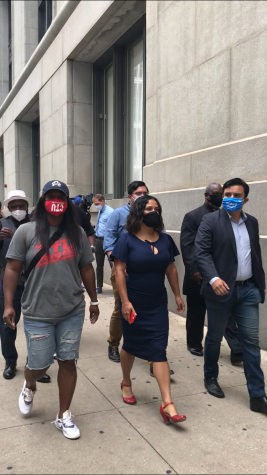 Correction: An earlier version of this story, published on Aug. 5, described the CTU protest as having occurred "yesterday." It actually occurred on Aug. 3.