Protest calls for removal of SROs from Lane
Dozens of students and community members gathered outside Lane on Saturday to demand the removal of police officers, or school resource officers (SROs), for the upcoming school year. Protesters also expressed that SROs should be removed from all CPS schools, not just Lane.
The protest occurred just days before Lane's Local School Council (LSC) is expected to vote on the removal of SROs from the school's campus. In late June, the CPS Board of Education voted 4-3 to reject a motion that would terminate the $33 million contract between CPS and the city's police department that provided SROs to nearly 144 CPS schools.
Instead, LSC representatives in each individual school have been given until Aug. 15 to vote on the proposed motion. Once each school's LSC votes, the motion will be sent back to CPS Board.
CPS board member Lucino Sotelo, who voted against the motion, said that the decision was best left in the hands of LSC's around the city, who could tailor the decision to their school's unique needs.
"Some of the students feel safe [with the officer], and when they feel safe, they can do something as basic as attending class," Sotelo said in a previous interview with The Warrior. "And that's important to me. … To me at the end of the day what I [care about] is that kids feel safe and kids go to school, especially in the communities that need it the most. And that's why to me it was important to make sure that we did not take away that option from Local School Councils."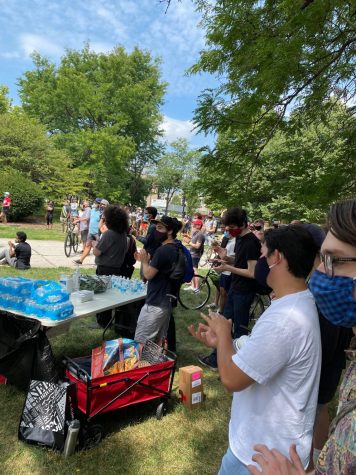 Beginning at approximately 11 a.m., the demonstration saw speeches from Lane students, teachers, alumni and local politicians including Ald. Matt Martin of the 47th Ward, in which Lane is located, and Ald. Andre Vasquez of the 40th Ward. The speakers addressed what they saw as the main problems with having SROs at Lane. 
Ugo Okere, a community activist and Lane Tech class of 2014 alum, said that instead of keeping students safe, SROs are actually harmful and threatening.
"Across the city we've seen incidents of SROs arresting students with little justification and using excessive force; at Marshall High School we saw an SRO drag a 16-year-old girl down the stairs and use a Taser on her," Okere said. "We've also seen a large number of complaints filed against SROs, demonstrating that they have been abusing their power." 
Okere also said that SROs make students of color nervous and unsafe.
"When a Black student sees a police officer watching them as they walk the halls, they fear that they will be profiled or treated differently," Okere said. "These students should be able to go to school and not fear for their health and safety."
One of the central themes of the protest was a reinvestment into school counselors, librarians, nurses and social workers. "Instead of focusing on punishing and criminalizing students, we should focus on restorative justice and giving students the resources they need to thrive and grow," Vasquez said. 
The LSC vote is expected to take place Aug. 10 and the CPS Board of Education vote is expected to take place Aug. 26.