Wednesday's Black Lives Matter advisory lesson met with widespread criticism from students who say it did not go far enough to address racism in the school
These students have now organized an anti-racism protest.
Ianece Coleman was among dozens of students who contacted the administration following the Oct. 7 lesson — chief among her grievances was that it did not do enough to address systemic inequities within the walls of Lane, but instead focused too broadly on the Black Lives Matter movement at large without the proper scaffolding.
The administration already seems to be taking steps to address students' concerns — in an Oct. 9 email to students, Lane debuted its signup form for a BIPOC Student Advisory Committee, which will allow students to "help plan and present future advisory lessons," according to the email. The school also provided the signup form for focus groups in which students will be able share their opinions about Lane's culture and climate.
But these changes may have come too late to allay students' concerns. Students have called the advisory lesson lackluster and performative, and said that it did not do enough to address racism within the school and at large. In response to this, as well as to what Coleman, Div. 272, and a plethora of other students perceive to be Lane's mishandling of racist incidents and outreach to minority students, Coleman and others have organized a protest on Wednesday, Oct. 14 at 2 p.m. on the Lane campus.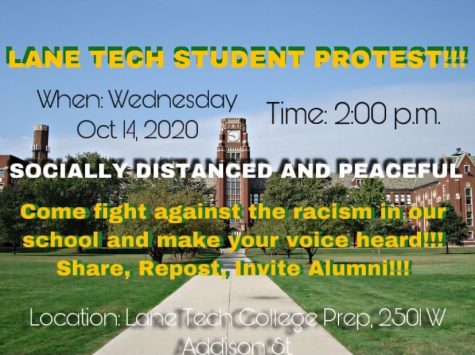 Coleman told The Warrior that she thought the presentation's scope was too broad and did not allow for students to reflect on racism as it exists within Lane.
"You should start with something that you can analyze a lot better, and I feel as though we should have started within our own school," Coleman said. "If you're going to try to talk to students about racism and try to talk to them about the problems in the world, have them turn a mirror on themselves first, on their peers, before they try to turn it on the rest of the country."
Paris Smith, Div. 271, echoed the sentiment that the lesson should have been specifically geared toward Lane in light of recent racist incidents perpetrated by students.
"I wish that Lane specified more about how they would make people of color at Lane feel more inclusive in the environment, and I wish they would talk about the past situations of racism within the school," Smith said.
Also under fire was a portion of the presentation that asked students to "post in the chat one word or emoji that describes how you feel" after watching a video explaining "Why saying 'all lives matter' communicates to Black people that their lives don't."
Grace Herning, Div. 186, told The Warrior that she found this disrespectful.
"Emojis are blatantly silly things," Herning said. "They're something that you use when you're in a joking or playful mood, but most certainly, you don't respond to a video addressing years of oppression and racism and the genocide of Black men and women for over 300 years with an emoji. That in no way can start any kind of beneficial discussion."
According to Lane Director of Culture and Climate Ms. Escobar, "We wanted to have students share how they were feeling and knew that finding words after the presentation could be challenging.  We felt it would be beneficial to give our students options to decide how to communicate."
After a summer that included a Lane protest for diversity in education and nationwide protests against police brutality toward African Americans, Escobar said that she and the administration thought the Black Lives Matter movement was an appropriate focus for this year's advisory lessons.
Wednesday's presentation was the first in a series of lessons regarding the Black experience in America, according to Escobar. The other topics, which she says will be discussed in later advisories, include inequities in healthcare, education, food insecurity and a specific lesson on the oppression of Black women.
Though she expressed hope that these lessons would empower Black students, spur reflection among the student body and inspire students to become involved in the movement, she acknowledged that the lessons' impacts are necessarily limited.
"I know we're not fixing everything with one advisory lesson or years' worth of advisory lessons," Escobar said. "I'm not oblivious to that, but I want to know where we can improve. I want to know how we can improve. And we don't know that until someone says something."
The presentation specified that focus groups with Black students during the 2018-2019 school year, as well as equity work based around them, influenced the lesson's content. However, Escobar said that the Department of Culture and Climate did not solicit feedback from students on the first advisory lesson.
Coleman, a lead organizer of Wednesday's protest, said that students must urge the administration to do more to address racism within the school.
She added that she wanted students to "say something. Use your voice. Silence is not helping anyone. Silence is condoning this behavior. If you are not denouncing it, you're supporting it, so speak. If they hear us all together, they can't possibly ignore us."