COVID-19 blows through the Windy City (Photo Essay)
On March 17, 2020, Illinois Gov. J.B. Pritzker closed Illinois school buildings due to the COVID-19 pandemic. A few days later, he issued a statewide "Stay-At-Home" order, and things that were once part of our everyday lives were quickly changed. Masks were required inside businesses, restaurants switched to takeout and delivery only, and for Lane and students across Chicago, school was switched to at home e-learning for the foreseeable future. As the school year starts this fall, things have slightly reverted back to normal, but many of our daily activities still look very different than before the COVID-19 pandemic. With most schools still closed and few restaurants doing indoor dining, Chicago has a sort of familiar yet empty feeling. For those who thought we would be transitioning back into normal life by now they were met with a sort of eerie and emptier version of the life they had known. This photo essay is a snapshot of what life looks like for Chicago and the Lane community during this strange period in history.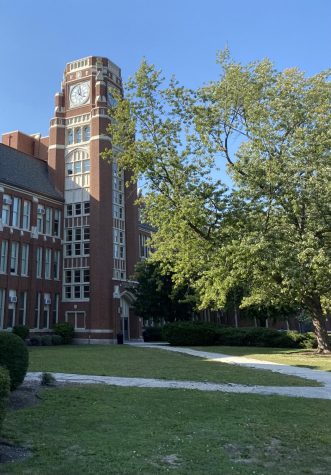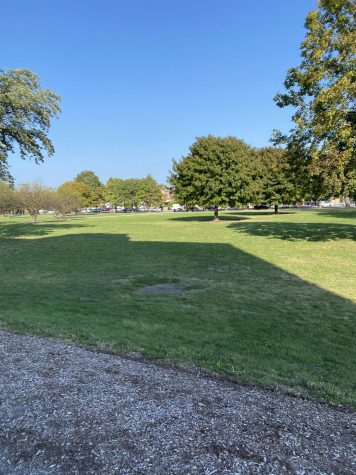 Door O and Lane lawn, a popular after school spot for students, rendered a ghost town on Sept. 25, 2020, 3:39 p.m. On a typical Friday in years past, you could find students playing sports and making plans for the weekend.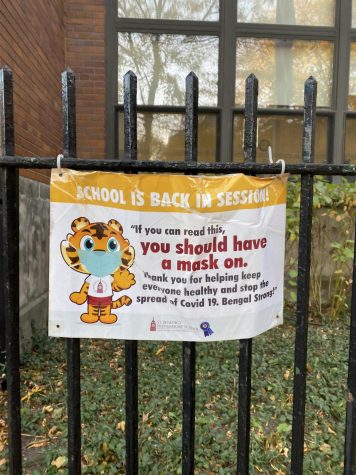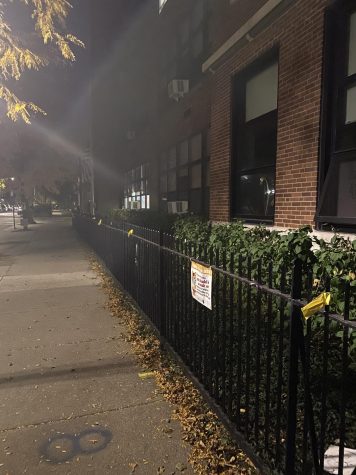 Signs encourage mask wearing, and yellow ribbons mark appropriate social distancing on the fence at St. Benedict Preparatory School in Northcenter, on Oct. 16. This Catholic school began in-person classes this fall.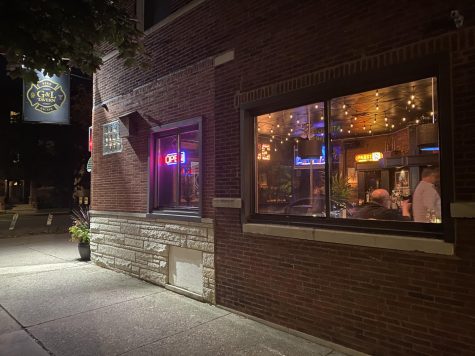 G&L Tavern, a few blocks from Lane Tech, open for business on a Thursday night, Oct. 15. As of Friday, Oct. 30, Gov. J.B. Pritzker placed a ban on indoor dining.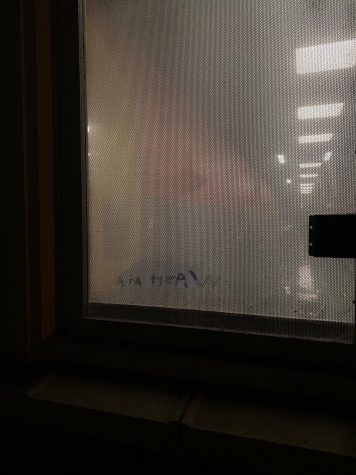 "WASH ME" on a Lane cafeteria window Oct. 15.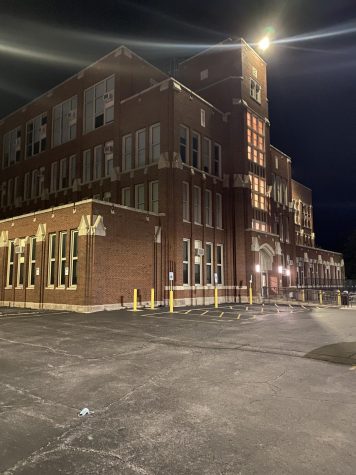 A discarded mask (bottom left) outside Door M on Oct. 15.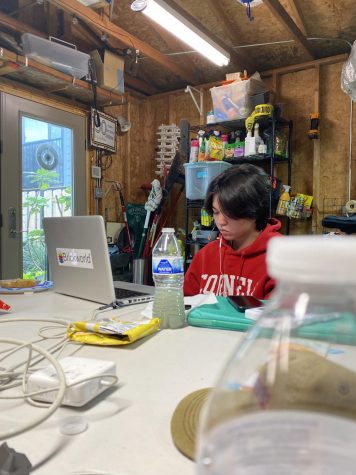 While students' experiences with CPS's remote learning plan have been mixed, students like Jack Cornell, Div. 161, are trying to look on the bright side. "I did more with a broken MacBook in the garage than a 10 pound backpack at school."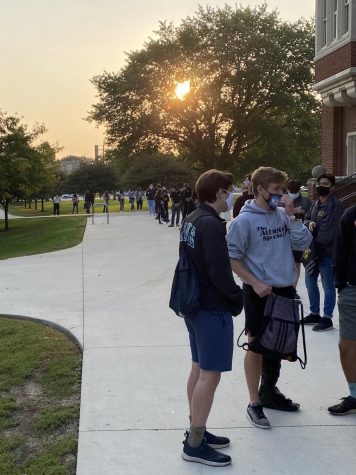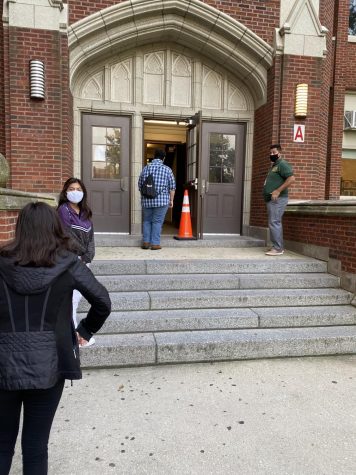 Lane seniors wait outside Door A to take the Sept. 23 SAT at Lane. It was later shared through an email from Lane Tech that a person who attended this exam later tested positive for COVID-19.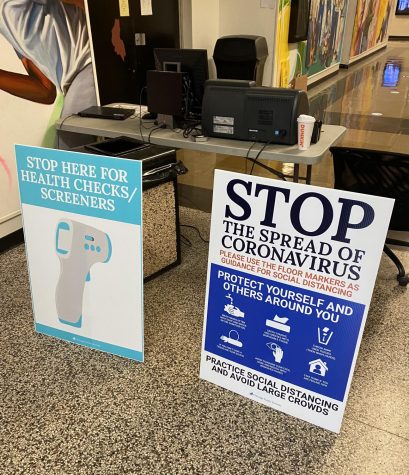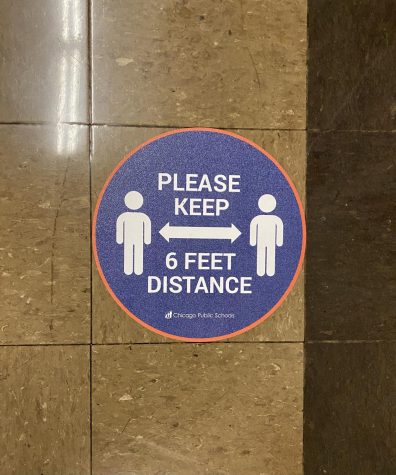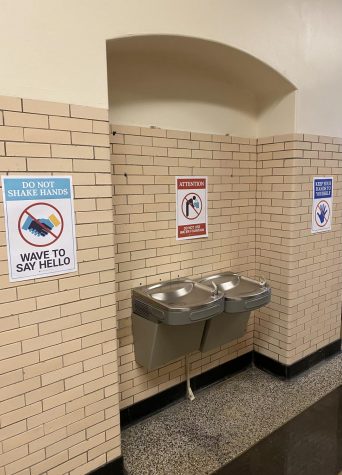 Students were greeted by copious signage and markings on the floor upon reentering the building to take the SAT. For some, this was the first time entering the building since school was moved online in March.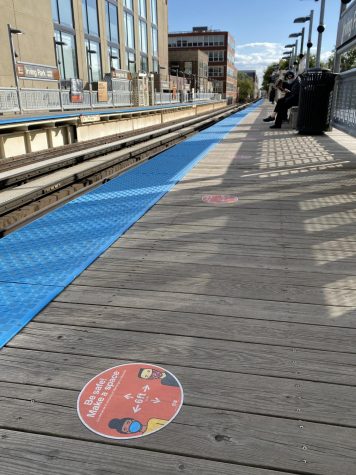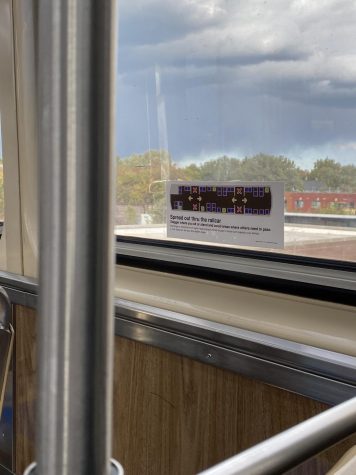 On the Brown Line, a common way Lane students get to school, CTA riders are encouraged to stand and sit 6 feet apart and keep as much distance as possible from other people…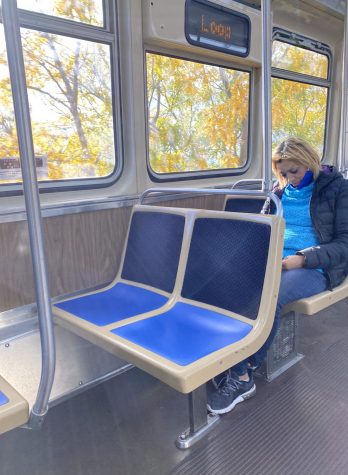 …But masks optional? While masks or face coverings are required, not all riders comply as seen on Oct. 16.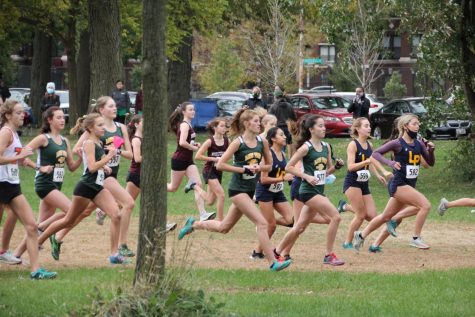 Lane Tech's City Champion Varsity girls as they started their winning race at Washington Park on Saturday, Oct. 17. According to the IHSA, tennis and cross country are low risk sports, meaning they are permitted to hold regional and sectional tournaments. Pictured: Fiona Glascott, Olivia Ide, Sophia Rivera, Nora Leff, Kate McNamara.