The reality of living on a college campus in the time of COVID
Amidst the COVID-19 pandemic, education remains a priority for many students across the nation. Colleges and universities throughout America have made changes to their campuses and classes to ensure students are still able to learn during this time. While many colleges decided to do the 2020 fall semester virtually, many colleges decided to bring students to campus. Campus living, however, is much different than previous years, with mask requirements, mandatory COVID testing, and many more protocols to ensure the safety and health of the student body. 
"What makes living on campus difficult during this pandemic is the fact that social interactions and club meetings and just the general real college experience has been limited immensely," University of Illinois at Urbana-Champaign freshman, Isabel Wojcik said. 
Wojcik is one of the many Lane alumni who decided to attend college at UIUC. According to Naviance, out of the class of 2020, 107 students enrolled at UIUC. For the fall semester, UIUC utilized a hybrid learning schedule, with a mix of virtual and in-person classes. The hybrid learning schedule, as well as living on campus, has both its advantages and disadvantages.
According to Wojcik, one of the benefits of living on campus is being able to take advantage of the facilities that are available to students.
"When I'm on campus, I can go to the engineering building or the business building to study," Wojcik said. "I am surrounded by people with the same mentality to want to do well in school and want to learn more, and that definitely motivates me."
The academic environment and being able to connect with other students is a sentiment shared by many current on campus schools. 
Ainslie Evans, a freshman student-athlete at the University of Michigan, which is also utilizing a hybrid schedule, said she much preferred her in-person classes to her virtual ones. 
"I had a few in-person classes and labs so it was cool to still get that experience," Evans said. "I had two in person lectures a week and I was so much more engaged in those than the ones that I watched online in my room."
Learning in a pandemic, however, does not come without its challenges. According to UIUC freshman Payton Jarzyna, online classes are often difficult and enthusiasm is often lacking. 
"It's harder to feel pressure in class when the other teachers and students are all just on my screen," Jarzyna said. 
Jarzyna, who does not have any in-person classes or clubs she is involved in, says that living on campus is not as beneficial for her academically. Socially, Jarzyna says being on campus and in a new environment has allowed her to connect with her fellow students and experience new things.
Similar to Jarzyna, fellow UIUC freshman Lilly Springer also feels like online classes have been one of the more difficult aspects of college life during this pandemic.
"I think it's taken a toll on my mental health for sure and makes it harder to stay motivated during classes," Springer said.
With all of the pressure of online learning and wanting to make the most out of on campus living, there is one thing most freshmen dread: the possibility of contracting the coronavirus. Both Springer and Wojcik contracted the virus, but both had very different experiences with it. 
"Contracting COVID-19 on campus definitely sucked since we are all used to our parents helping take care of us," Springer said. "I quarantined at home, which was hard not being able to see anyone or go outside but we just tried to keep everyone safe."
Wojcik, on the other hand, chose not to go home to quarantine and was quarantined on campus. When Wojcik got back the results of her COVID test, she immediately contacted her building regulator, who moved her into a suite a couple floors down from her own, where she would remain for the next 14 days.
"During that time I did do a lot of self reflection, home Pilates workout, a lot of snacking, catching up on homework, getting ahead with homework and overall I had a very good experience because I was also getting food delivered to me twice a day to the door and everything is for free," Wojcik said.
Even though Wojcik considered her quarantine a productive one, she admits it was still not the most exciting experience. Wojcik said that she often missed her friends and experienced some "FOMO," but understood that her own health and the need to prevent the spread of COVID outweighed her feelings of FOMO.
Evans said that it is important to stay safe and be more aware of the decisions they make while living on campus.
"It is really just making sure you make smart decisions," Evans said. "There is always that bit of unknown, but it was nice getting tested every week and knowing that pretty much everyone I was hanging out with was getting tested every week."
As an athlete at the University of Michigan, Evans was tested once or twice a week, but when she is in season, the testing will increase to five times a week. Similarly, UIUC students are required to get tested a minimum of twice a week. 
"I feel very safe living on campus. COVID is the only threat, but we all take precautions and get tested throughout the week," Springer said. 
When the health and safety of students are prioritized, living on campus, even during this time can be a positive experience.
"Going to college during a global pandemic is not something anyone wants, but it has taught me to be more grateful and appreciate the things that do matter in life," Wojcik said. "I do recommend going to campus if your school allows it, because honestly this virus is not going anywhere anytime soon and we might as well try to make the most out of our experiences, while taking the necessary safety measures."
About the Writer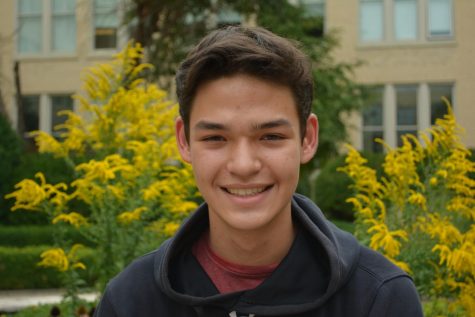 Ryan Fairfield, Editor-in-Chief
Ryan Fairfield is a Lane Tech senior in his third year of journalism. At Lane, Ryan has been a part of the Omega program since his freshman year and a...