Creative and artistic small businesses survive, adapt amid uncertainty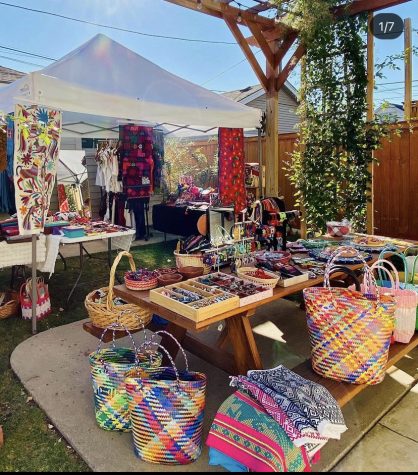 Prior to a fateful day in March, gigs were no problem for Lane's favorite family band. 
"So in a given week we were doing four or five gigs, maybe seven," explains Lane alum Diego Lucero, singer and guitarrón player for Cielito Lindo. But after the pandemic, he says, "it was like anywhere from like 3-5 gigs a month, if that." 
Artistic and creative businesses have borne the brunt of a shaky economic situation that has snowballed. But how they've dealt with it, and the fundamental changes they've had to make underscore the drive, creativity and distinctiveness of respective Chicago businesses. 
Cielito Lindo, which describes itself as "modern mariachi music," (or "alternative," as Diego likes to say) was started eight years ago by the Lucero family and is still helmed by Diego and his family of 9. They have performed the national anthem at sports games for numerous teams like the Bulls, Sky, and the Chicago Fire, ballads on televised talent shows (adoring judges have included Youtube star David Dobrik,) and seemingly everywhere in between within the Chicago area. But in March as crowds thinned, so too did their income. 
After learning the family was at risk of being evicted, a family friend started a GoFundMe to hopefully alleviate the financial trouble the family had found themselves in without a steady stream of income.
"I didn't expect so many people to help," Lucero said.
Students and teachers alike shared the GoFundMe through sites like Snapchat and Facebook. The connections that Diego has made during his time at Lane, especially within the more musical and artistic corners of Lane, came in handy. 
"Just like the community I've built…" Lucero trailed off, obviously moved. "People were just sharing it, donating, it was crazy. I didn't expect so many people to help first of all." Now, Lucero says, he's working to personally thank everyone who donated for their generosity. 
Making the best with what they had 
The same carpet pulled out from under the feet of Cielito Lindo also caught Mexican Artisan importing shop Colores Mexicanos, which describes itself as importing "fine Mexican handmade art, fashion, decor and gifts, working directly with individual artisans and artisan cooperatives throughout beautiful Mexico."
Leticia Galvez, a Lane parent and part owner, used to display and sell her unique clothes, art and goods at festivals across Chicagoland. Then, market life came to an abrupt halt.  
"We were very sad. That's the truth," Galvez said of herself and her two other part owners. 
While they did hit an obstacle, it was not a dead end. Within just a couple months, Colores began selling their goods from Galvez's house, safely starting an "open air market" for customers. Their ropas bordadas (embroidered clothes), ranging from shawls to jean jackets can be seen stylishly arranged next to a vast array of jewelry, ceramics and pottery, and multicolor wicker tote bags. 
Capitalizing both on the needs of the time and a new website, Colores began selling face masks with traditional Mexican embroidery from artisans in Oaxaca ("health department certified" as Mrs. Galvez eagerly pointed out.)  
"It was very important so we could sell our face masks made by our artisans, because people started selling more and more of this product," Galvez said. Even Nancy Pelosi, in a January address, was seen wearing an embroidered mask identical to the ones Colores imports, handmade by Oaxacan "bad-ass lady entrepreneurs," as their Instagram explains.   
Pandemic Puzzles
Wink Design Atelier, a small art and design firm owned by Lane parent Brenda Bergen, has felt the reverberations of the industries around them. 
"It's so hard for people to predict the future right now, we just don't know when some of this stuff will be in full swing again," Bergen said. 
As restaurants largely struggle due to the dearth of customers, advertising budgets have been the first to be slashed for neighborhood eateries, and Wink, made up of just Bergen and two other employees, has been caught in the crosshairs. The former art director for both a Chicago chocolate company and major music label had to cope with the loss of a project or two, and eventually, moved out of an office she was renting. But mid-quarantine, she decided to respond to her predicaments with puzzles.  
Wink Puzzles, a jigsaw puzzle design and production company under the umbrella of Wink Design, is something of a passion project for Bergen, who was reminded of her love for a good thousand-piecer amid the monotonous days and nights during quarantine. 
"This March or April, I was on Facebook trading puzzles with neighbors and everything, but companies were completely sold out," she said. 
Bergen saw an opportunity, one confirmed by a higher-up in the admittedly obscure industry of jigsaw puzzles. "I listened to a podcast from the owner of the number 1 puzzle company, Ravensberger, and he said that in March, the search terms on Google were toilet paper, hand sanitizer, masks and then jigsaw puzzles," Bergen explained.
Bergen sells Wink Puzzles on a website of the same name. As their popularity increases, Bergen hopes the puzzles will abate the boredom of quarantine for others as they did for her, and help all the pieces come together for her business. 
"You can't shake it"
This drive to create, even amid a precarious backdrop of unpredictability, is what keeps Steven Gillis, part owner of Ravenswood recording studio Transient Sound, going. Gillis describes Transient as a studio that's worked with "people that you know, and people that you don't know." (People you may know include Troye Sivan and Los Lobos.) 
Luckily, Gillis and his business partners avoided the worst during the outset of the pandemic, relying on mixing and production work to compensate for the lack of live studio sessions. 
"Honestly, we just kept plowing along," Gillis said. 
As he slowly makes the transition back to studio music, Gillis keeps a family member with cancer in mind, making sure he more than complies with necessary safety protocol and creates a safe, socially distanced studio environment. 
"The business end of things is a drag," Gillis admits. He was rejected twice for a small business loan this past year before receiving one at a smaller bank, ("who knows maybe [the bank] just left our applications in the bin…") but money is not why he does what he does. 
"To me, it's the creative aspect of it. That's the buzz, you know, like creating something, you're like, wow, I'm really proud of that," Gillis said. "Or the artist is really happy, or they're really proud of it, or, you're working really great with them. You can't shake it, you know, like you go to sleep with music, you wake up wanting to listen to music…this is what I've done my whole life. I've known since I was a sophomore in high school, I was going to be a musician. I've never thought of anything else."