Eve Fries: The 'Kindest Soul' and a 'Loss for us all'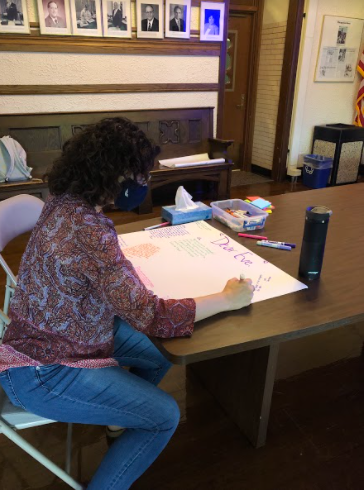 Laughing with friends, making Tik Toks, playing softball, going to Starbucks, taking mirror pictures, using Snapchat filters, and so much more were on display in a slideshow presenting photos of Eve Fries and her life. 
A vigil for Eve, organized by Axata Karki, Div. 269, and Naomi Konnen, Div. 277, was held in Room 113 on Thursday, Oct. 14 during all lunch periods. It was visited not only by students and faculty, but also Principal Edwina Thompson and Eve's mother, Debby.
The numerous photos were accompanied by the songs "Moments," "If I Could Fly," and "If I Could Write You A Song," all by One Direction because she was a "die hard fan" according to the organizers.
There was a poster for people to sign and write messages on, titled "Dear Eve." It was a way for people to convey the things they still wanted to say, write a nice memory, or simply commemorate her.
"She was just an amazing person," Karki said. "She was just always in a good mood, like she would just light up people's days, she was just always so positive." 
Before coming to Lane, Eve went to Decatur Classical School, and after a year at Lane, she transferred to Depaul College Prep. While she only went to Lane for freshman year, and a couple weeks of sophomore year, she impacted the lives of so many.
 "She was a great student, she was full of life, just smiling; raised her hand all the time for everything, just had such a thirst for learning — a thirst for life," said Ms. Paganelli, her Spanish I teacher.
Eve also played softball and was the captain of the JV team her freshman year. As well as softball, she loved to watch and support the Cubs. In one of the photos in the slideshow there was a picture of a giant billboard at Wrigley titled, "Eve Fries: Angel In The Outfield."
By organizing the vigil, Karki and Konnen most aimed to show people the light Eve brought to the lives of everyone she interacted with.
"She was just such a caring person. She really cared for her friends, and she wanted the best for people," Konnen said.  
The vigil served as a way to celebrate and remember her vibrancy, warmth, and light throughout her life, but also to mourn the passing of someone so beloved.
As Konnen said, "She had the kindest soul that I knew."