Wrestling takes home city championship once again
In a sport where staying on weight is crucial, preparation is key, the first battle is the weigh-ins. When a varsity starter misses weight this can throw off the team's motivation, and possibly cost the team a championship. 
But what led Lane to success on Jan. 28, was their culture of excellence instilled over the years. By holding oneself to the highest of standards, the rest will follow. Along with this comes the common goal to win. All 13 wrestlers sent out contributed scoring points for the team. 
Lane scored 253.5 team points over Taft's 225 team points. Claiming their second city titles were junior Evan Coles (106), sophomore Alex Valetin (113), co-captain senior Finn Merrill (138) and co-captain junior Fernando Lopez (152), who gave up zero points against his opponents, pinning his way through his bracket.
What secured Lane's championship was largely due to the continuous fight from the rest of the team. Senior Marcello Valle (126) came back to place 3rd over Rickover Naval Academy after a decision loss against Kenwood, the eventual champion in that weight class. Valle topped his 5th place finish in the 2022 city tournament.
Making his city debut was sophomore Nasser Hammouche (132), who went 3-1, taking his finals match into the third period before falling to returning champion senior Vin Moreno of Phoenix Military Academy. Obtaining their first city title was senior Felix Zavala (145), pinning Kenwood in the second period finals match.
Freshman Manny Girolamo (160), senior Diego Condie-Espinosa (170), sophomore Joaqin Gigante (182), junior Adrian Meza (195) and freshman Spiro Memmos (220) all scored necessary team points despite not making it onto the podium. 
After a loss against the eventual 285-pound champion, junior Julian Hutchinson (285) came back and took 3rd over Little Village. 
Coming into the tournament, Lane most recently suffered losses against New Trier and Glenbrook North. Assistant Coach Qunit Smith said these losses were crucial experiences.
"Lane, we've notoriously wrestled a tougher schedule, our record may not reflect it when we get to the city tournament," Smith said. "But the technique and the experience that we get at these suburban tournaments when we're wrestling the Prospects, the Barringtons – getting in those good competitions helps us dominate at the city tournament." 
Confidence in conditioning, technique, and coaching plays a key role in any winning team.
"It's the elevated mindset when you know you could go toe to toe — look at Alex Valentin going toe to toe against Plainfield's top-ranked kid," Smith said. "If you could go toe to toe with these guys, the sky's the limit. It builds so much confidence when you're putting in that work in, that time in, and you do go toe to toe with these guys. It really builds confidence in your wrestling skills and it's a domino effect; the teammates start to feel it and the team feels it."
Confidence in oneself is what graduate Coach Natalie Cortes says is necessary for a team's success.
"If you have a coach who doesn't believe in you, that just trickles down, to kids not believing in their teammates, and they don't believe in themselves, and it shows in their performance," Cortes said.
Head Coach Matthew Yan begins recruitment in the pre-season in order to develop connections with wrestlers with potential. 
"The kids know when to let loose, enjoy ourselves, even when we're winning," Yan said. "Finding that balance can be tough but this team has been together for a long time, and a lot of these guys wrestle each other year round. We've built that comradery. The team has bonded a lot during the off season." 
Coach Yan prioritizes a comfortable environment for his wrestlers. 
"And that's the foundation of all coaching, I think, just interpersonal relationships, and communication… My strategy is definitely building that bond with students and getting them to enjoy wrestling and keeping it fun. That's what keeps kids coming back," Yan said.
"We have a really good retention rate," Yan said. "I'm happy about it, I'd love to add even more kids, we have a lot of returning sophomores and I think that's how we've created a good core, they wanna stick around, for each other."
Sharon Moreno is a co-captain on the Lane Tech Girls Wrestling team.
Donate to The Lane Tech Champion
Your contribution will allow us to cover our annual website hosting costs, which are no longer covered by our district/school. If we do not meet our goal this summer, we may lose this website and its archive of stories covering 2009-2023. Student journalists at Lane Tech use this archive to research past coverage of various topics and link to past stories to offer readers additional context for current stories. Thank you for supporting the award-winning reporting and writing of journalism students at Lane Tech College Prep!
About the Contributor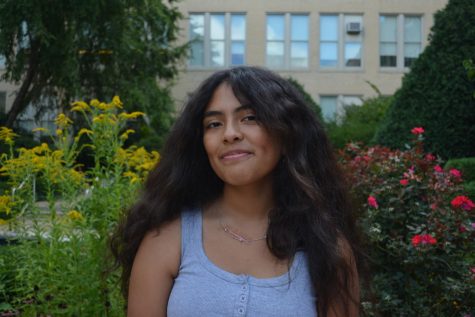 Sharon Moreno, Reporter
Sharon is a senior, and this is her first year in Journalism. Sharon is going on her 2nd season of being one of the captains on Lane's Wrestling team,...