Greek life appeals even in the age of hazing awareness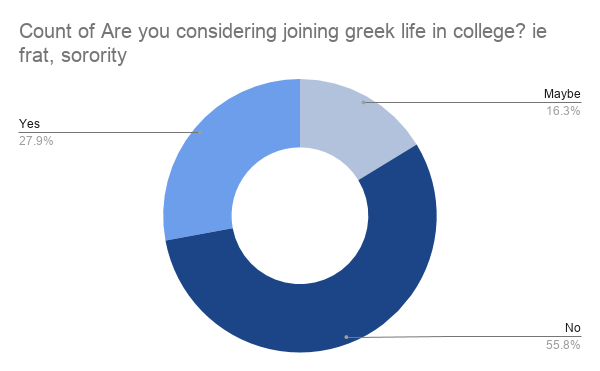 Ever since the founding of the first modern Greek organization in 1775, Greek life has been a dominant force in American colleges. This was especially true for Assistant Principal Ms. Hanly, who attended DePauw University in Indiana, which at the time had a Greek life membership of over 95%.
"If you weren't in a fraternity or sorority you were in the minority," Hanly said.
Traditionally, Greek life is involved in community service and rituals. Another traditional part of Greek life is hazing, where potential Greek members, often referred to as pledges, undergo trials which are typically painful or embarrassing in order to gain membership to that organization.
Common hazing activities often include excessive alcohol consumption and ridicule, both of which can be harmful to those involved.
Hanly recalled an incident of hazing at one sorority when she was in college. 
"They had to go to the fraternity house next door and weigh themselves on a scale and shout out their number to all the boys in the room," Hanly said.
Hazing has long been seen as a typical part of the Greek life experience, but that is starting to change. Hazing has recently come under fire for its potential consequences, as it often results in injury or death.
In 2017, Tim Piazza, a fraternity pledge at Penn State, died after falling down a flight of stairs while inebriated; his potential fraternity brothers allegedly waited hours before calling 911. In April of this year, the ongoing legal battle that sought to decide whether Piazza's death was the fault of the fraternity finally came to an end. Three fraternity brothers were convicted for involvement in Piazza's death, according to an article by The Atlantic.
Deaths like this are not uncommon. Since 2010, there have been 22 recorded hazing deaths in the United States, according to data compiled by Hank Nuwer, an anti-hazing activist who has compiled a database of hazing deaths.
These incidents have led to a new push against the practice of hazing, which many anti-hazing activists believe is dangerous and often life-threatening. 
Jess Steiner, who graduated from Lane last year and attends Rhodes College in Tennessee, joined the Alpha Delta chapter of Kappa Delta, and said that her sorority actively fights against hazing.
"I haven't had any direct experiences with hazing because both my school and sorority have a very strict no hazing policy," Steiner said. "My sorority is involved in the 'These Hands Don't Haze' campaign."
The "These Hands Don't Haze" movement calls for action against hazing through things like hazing prevention weeks and the encouragement of sisters to report hazing, according to a statement on the website of Sigma Nu, a sorority that supports the movement.
Despite the negative attention Greek life has received recently around incidents with hazing, many current and past members argue that it can be a beneficial and productive experience.
"You did get 60 instant friends," Hanly said. "Which was great for someone who was shy or needs a sense of belonging, it gives you an immediate place to hang your hat, so to speak."
Alexis Rivas, Div. 070, plans to join a sorority in college. Part of her decision stems from the fact that her father joined a fraternity and, as a result, she has seen first hand the benefits it can bring. For her, benefits like friendships and networking outweigh the possible negative consequences of joining Greek life.
"I would go through it for the benefits you have after leaving university," Rivas said. "Just the potential benefits and resources you have is enough reason itself."
Despite this, Rivas said that the experience of Greek life might be unpleasant and definitely is not for everyone.
"The stereotype is that fraternities and sororities are party crazy and have drugs," Rivas said. "So I think that the experience of going through it isn't enjoyable for most people."
Although joining Greek life is not for everyone, there are more benefits than just friendships and networking. Another commonly cited benefit of Greek life is leadership skills. 
Hanly attributes her ability to help run Lane to being an officer in her sorority for two years.
"I probably would have a difficult time being in the position I am now had I not had some of that experience where you're running a house of 60 girls," Hanly said. "It's not quite the same thing as running a school of 4,500 but a lot of the same leadership skills I needed to do this job I had to do in that job too."
While Greek life remains a controversial part of college culture, the choice was easy for someone like Steiner.
"I wanted to join a sorority because of the sense of empowerment and confidence I saw instilled in other Greek women. It was something I wanted for myself," Steiner said.