Students protest racism at Lane after last week's advisory lesson; more action planned for next week
About 20 students gathered at Lane on Wednesday to protest what they say is Lane's failure to address incidents of racism within the school. This demonstration comes after a student-made presentation that cataloged alleged acts of racism circulated earlier this week, and after widespread condemnation of the school's Black Lives Matter advisory lesson last week, which students say did not do enough to combat racism at Lane.
According to Samatha Currie, Div. 262, who was one of the protest's main organizers, the event's goal was to bring attention to widespread racism at Lane.
"We want people to be held accountable. We want people to feel safe in our school because honestly, some people have come out saying that they've been racially targeted and threatened," Currie said. "They've been harshly affected by the racism at Lane, and we just want to make noise about it, make people aware that this is not just a one person, two person thing — this is going on all throughout Lane."
Tammy Spivey, Div. 255, had the same goal when she and two friends created the presentation, entitled "Lane Tech Unaddressed, Consistent Bigotry." The presentation, which Spivey said was inspired by the advisory lesson, includes 40 slides of written testimonials alleging racism, homophobia, sexism and general bigotry among both students and teachers, as well as videos and screenshots of students engaging in racist acts. Spivey and her friends claim that these incidents were not addressed by the administration.
"I'm kind of just hoping that administration becomes more aware that Lane Tech is not [the] safe environment that they make it out to be, and even though students do step forward, they don't feel heard, and a lot of students are too scared to step forward because nothing will come of it," Spivey said.
After the presentation made its rounds on the 13th, Principal Tennison sent an email to the student body in which he stated that he takes all reports of racism seriously, and that the school will not tolerate racist language and actions. He added that perpetrators of racist actions will be barred from participating in extracurricular activities.
He also apologized for the portion of last week's advisory lesson where students were asked to describe their feelings about a Black Lives Matter video with a single word or emoji.
In an email interview, Assistant Principal Ms. Hanly told The Warrior that Deans Lopez and Milsap open an investigation every time they receive a report of misconduct, and then enter all incidents into Aspen, where other CPS investigating units can access the information. However, the findings of the investigation, and the involved students' punishments, are protected by student privacy laws.
Hanly also said that the school has begun investigating some of the incidents alleged in the student-made slideshow, and that the administration has also contacted CPS about most of the cases broached in the presentation.
"As for anonymous reportings, they present some difficulty without having someone to interview," she said. "If there is specific evidence provided (picture with a student's name on it, for example), that certainly helps, but if it is hearsay with no concrete evidence and we have no name to interview as a witness, it is very difficult for us to investigate."
She added, "We certainly encourage students to report something right away and have as much concrete evidence as possible."
Despite this and the administration's other anti-racism efforts, a group of students have organized another anti-racism protest at Lane next week.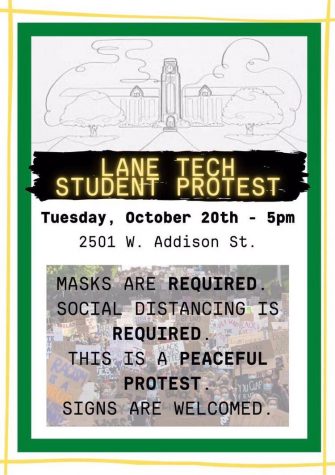 According to Emma Doucet, Div. 456, one of the protest's organizers, "We are demanding that BIPOC/POC students be able to feel safe, comfortable, and advocated for in their own school environment."