LSC candidate profiles part two: parents (Symons, Haite, Beaudet and Lokken)
Update: On the LSC parent representative ballot, there are nine names, even though there are just eight candidates. Kirsten Brandt, who is the ninth name on the ballot, dropped out of the race. But, LSC Relations said her name must remain on the ballot since her name had already been submitted as a candidate, according to Lane's LSC Coordinator Miriam Santana. Votes for Brandt will not count, according to Santana.
This is the first half of the parent candidate profiles, featuring Laura Symons, Emily Haite, Matthew Beaudet and Anne Lokken. The second half, which profiles Patricia O'Keefe, Catherine Ashlaw-Doherty, Benjamin Wong and Claudia Muniz can be found here.
Local School Council (LSC) elections are just weeks away, with high school election day set for Nov. 18. This year's election will look a little different though, with mail-in voting being an option for parents and school staff (not community members).
Last month, The Warrior previewed the community members, teachers, non-teacher staff member and student who are running for Lane's LSC. This article previews some of the parents who are running for the Lane LSC.
Parent representatives is a position open to the parents of Lane students. There are six parent representative spots available and eight people are running. These spots are voted on by community members and parents.
Parent representatives serve two-year terms and the incumbent parent representatives are running. 
These candidate profiles are aimed to inform those voting in the Lane LSC elections about the candidates. The Warrior extended invitations to every candidate to participate in the interview process and asked the same questions to every candidate to ensure objectivity. The Warrior's Editorial Board will not endorse any candidate in the field.
Interview transcripts have been edited for length and clarity
LAURA SYMONS (INCUMBENT)
Summer voting record:
Voted to remove Indian symbol
Voted to remove school resource officers (SRO)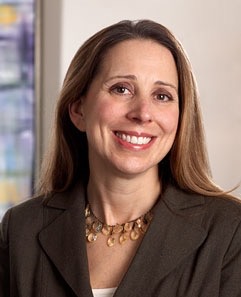 1. Why are you running for the LSC?
"I have been involved in CPS for years. My children's grade school, I was on the LSC. I'm into my second year of LSC at Lane Tech. And I think CPS has some great schools, but it's a large bureaucracy that needs parental involvement, that requires a checks and balance. And I feel like I'm one of the people who can provide that. And I also just think Lane's a great school and I want to be involved to help it be great and be even better."
2. What are your thoughts on the LSC's decision on the mascot this summer? 
"I think it was a long overdue decision and the community was around it. And most importantly, the Native American population, the American Indian Center in Chicago, they were all asking for the removal of that symbol. And although I appreciate the alumni who say there was no intent behind it, that they saw the symbol always as a sign of respect and something they admired, it's still the people who represent that symbol did not want it anymore, so we did not have the right to keep it."
3. What are your thoughts on the LSC's decision on school resource officers this summer?
"It's very hard, I still feel uncomfortable of having gone through the process and having to make the decision with, quite honestly, incomplete information from CPS and what the plan two would be and so and so forth. And even in asking CPS, not getting that information, when they have plenty of high schools that don't have an SRO. So they do have a security plan in place. But I think at the end of the day, the individuals in the building were saying 'we do not need this person' and quite frankly CPS doesn't have the money to be spending that much on SROs instead of school counselors, instead of social workers, instead of more teachers to lower the class size. I truly believe it was a waste of money on CPS' part."
(In a follow up email interview, Symons said, "I have nothing but respect for police officers and the hard job they have to do every day. At the end of the day, the people who are in the building, students, teachers, and administrators did not want an SRO in their school. In addition to that, CPS cannot afford to be spending money they do not have on a select few schools and SRO positions when there is a real need for additional counselors, social workers and teachers throughout the network. These positions will have a direct impact on our students. I am hoping that CPS will realize this and reallocate the money in the future.")
4. What's one thing you would like to change about Lane?  
"One thing that I think we're working towards, and it's a long process and it's hard because it's a large school. But, the inconsistency in the classroom as far as the level of homework, the actual curriculum within a department. .. You have a teacher and your experience in that same class was wildly different from a friend who has a different teacher. And I do think that that is something that needs to be more consistent and more helpful for all the kids. And quite frankly I would think easier for the teachers, so I think that is a big thing. And just continuing to make strides in being an inclusive community and representing everybody and making everyone feel safe and welcome at Lane, whether it's a student, parent or teacher." 
5. Why should voters elect you? 
"I'm not afraid to make tough decisions. I obviously did in the past. I am very passionate about the school, I'm very involved in the school. Although my daughter is a sophomore, both my children went through LTAC, so I've been involved in the school for five years. I've helped out volunteering, I've helped out with the fundraiser. So I feel like I have a good working of the school. I have a good understanding of the players. And having been on an LSC in the past and serving this year, have a decent sense of CPS."
6. What is your favorite thing about Lane?
"I think it's just it feels like a true high school experience. And every time I walk in the building, although lately I've only been in a few times this year, and it's obviously not the same. But it just feels like home. It truly feels like people are there and want to be there and are welcoming and respectful of each other. I've been in the school during passing periods, and although it's crazy and crowded, I feel like everyone's always respectful and just doing their thing. And I just think that that makes Lane feel special when you walk in and it just has so much to offer, partially because of its size, it can offer so many more classes and sports and clubs."
7. What's one fun fact about yourself?
"I have met probably, I couldn't give you an exact number, but I would say in the hundreds of celebrities, having worked in the hotel business."
EMILY HAITE (INCUMBENT)
Summer voting record:
Voted to remove Indian symbol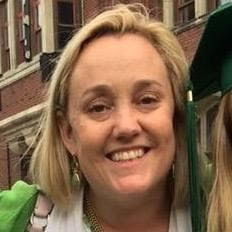 Voted to remove school resource officers
1. Why are you running for the LSC?
"Because I have been a part of it for the last four years and my son has two more years left at Lane and I feel like I want to finish what we started. I want to follow through on the trajectory we are on and I also am just the type of person who needs to be involved and I might as well be involved while my son is still there."
2. What are your thoughts on the LSC's decision on the mascot this summer? 
"I think it was time to do it. Once again, we always thought that it was a decision that was supposed to be made by downtown and then they told us that we had to do it and then a couple of days before we took the vote they said 'well actually you don't have the power to do it.' So that part was really frustrating, dealing with CPS. But, this is my eighth year at Lane and some people have been wanting to make this [decision], people have talked to me about getting rid of it since I've been there. I mean the first week, my daughter was in seventh grade and I was volunteering in the school store and people were asking me why the Indian was still the symbol and could we get some stuff that didn't have the Indian on it."
3. What are your thoughts on the LSC's decision on school resource officers this summer?
"Well I'm so furious with downtown that we were put in that position, but I feel that if downtown felt like the SROs were so needed, then they wouldn't have given us the power to have gotten rid of them. … It's been really really hard, but I tried to listen to everyone and do my own research, and it came down to the Smitty, the head of security, and Mr. Milsap, Dean of students who's been there forever, who both told me we didn't need to have an SRO, and I figure, they really are the ones who really know what's going on in the building. But it was awful. It was so contentious. It was so awful. And it still makes my stomach hurt. It's not anything to be said against police in general, it was just I didn't think it was necessary for our school."
4. What's one thing you would like to change about Lane?  
"Well I've been on the CIWP (Continuous Improvement Work Plan) committee for the last six years and one of the big things that I pushed for this year was having more communication between teachers and parents and less [summatives] and less testing. Having the students do deeper projects instead of just doing unit tests and things like that. So a little less focus on the testing. And less focus on, and I think this is a lot of just students putting pressure on each other, but I know the counselors do too, less feeling like students have to take 5 APs or a ridiculous amount of APs. So a little less pressure, and ideally I would love to have more counselors and more social workers and things like that, which is what the LSC pays for. We have 13 security guards and downtown only pays for six of them. We just got another part-time social worker; before that we had two, one of which we budgeted for. We paid for the full time nurse. But with the state of the economy of the state and the city there's no way we're going to get more money for those things. But, ideally, that would be great if we weren't paying for that then. And because Lane is so big and so old, we have expenses for the building upkeep that other schools don't have, so for [the LSC] to choose to keep on doing stuff for the building and to pay for the support staff is really difficult."
5. Why should voters elect you? 
"Because I have worked really hard to create relationships with parents, with teachers and with students. I work to build those relationships. The school, when I first came in, it was a really toxic environment and there was just a lot of anxiety, and I've worked really hard to help kind of bridge the gaps between what people are thinking and the relationships, especially right now when we're not in school. I have teachers email me, that aren't my son's teachers, but just emailing me about 'what's going on with this' or 'can you kind of get the temperature on that,' or 'can you help us figure out how [so] teachers can do this' and things like that, so I think just the relationships that I've built are really helpful for continuing our growth and continuing to make the school better."
6. What is your favorite thing about Lane?
I love the community. I love the students. I love the parents. I miss being in-person so much. I mean, when my daughter started, when she was in seventh grade, I immediately started volunteering in the school store and at that time, we didn't have someone working in the CCC (College and Career Center) checking people in and so I volunteered at least once a week doing that, and I just was so impressed with the kindness of students and I love the diversity. I just think it's a wonderful community.
7. What's one fun fact about yourself?
"I have three titanium discs in my neck."
MATTHEW BEAUDET (INCUMBENT)
(Note: Beaudet's child who currently attends Lane is a senior, so if elected, Beaudet will only serve until his child graduates)
Summer voting record:
Voted to remove Indian symbol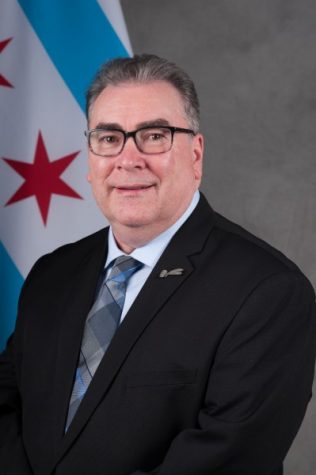 Voted to keep school resource officers
1. Why are you running for the LSC?
"I have a background in public service, so I've been with the government for about 30 years now, so [I] always believe in giving back, whether it's publicly or community wise. I mean I used to be a referee for AYSO (American Youth Soccer Organization). I've done a lot of volunteer work with CPS. I used to do Real Men Read when they had that program, and that was reading to second graders in impacted areas. So I used to read to Tilton Elementary on the West side, so I would read to second graders there. So it's just kind of who I am. I've always wanted to give back to the community. And I think in particular now, there's kind of a sense amongst the parents that they're losing their voice in CPS. And we've got six parent reps, or we're supposed to have six parent reps on the board. But, they're not always, in my opinion, listening to the parents. They're listening to other stakeholders and outside influences. And I respect the other stakeholders, but they do have their own representation. So when you run for a parent rep, I believe you should honor that commitment that you make to the parents and be the voice of the parents."
2. What are your thoughts on the LSC's decision on the mascot this summer? 
"I'm actually Indigenous myself, so this is something that I've been working on for over several decades myself personally. I was with the Illinois Native American Bar Association, I founded that Bar association back in 2000. We did file suit against [the] University of Illinois where [they had] what they called the Chief Illiniwek Dance. It's a little personal to me. But you know I looked at it through the, even though it's personal to me, I looked at it through the lens of the parents and I did take all the stakeholder information that we received. I drafted the questionnaire that was sent out to the various stakeholders and I did take into consideration everything they had. And again, being a parent rep, in that regard, the parents were overwhelmingly in favor of removing it. So I did respect that and I voted that way accordingly."
3. What are your thoughts on the LSC's decision on school resource officers this summer?
"That, I think, was a mistake. Again, I respect the way that the various stakeholders voted. I know Mr. Cashman voted the way the students wanted to vote. Mr. Law and Ms. Gomez voted the way that the teachers wanted to vote. The staff voted to keep it. And [non-teacher staff representative] Dannixa [Velez] voted to honor that. And again there, being a parent representative, 75% of the parents that responded wanted to retain the SROs, so I did respect that. And I voted that way. I think there was a lot of misinformation that was going on. Some parents were citing studies that show that SROs weren't effective — quite the contrary. You're never going to prevent somebody from shooting, so it's not somebody, it's not stopping somebody from entering the building with a gun. It's addressing it if there's a weapon in the school. And, the facts play out that when there is somebody inside with a gun or a knife, the best way to stop that was having an SRO in the building, and in many of the instances, the SRO stopped the person before they could harm anybody. In some instances they've stopped it after some people were harmed, but they stopped it from escalating further. …  And unfortunately knowing shootings the way I do, because it's an unfortunate part of my past, I've been involved in situations in the city where violence has occurred and I've unfortunately been in the middle of it. And I wasn't really looking at it in the abstract because I've unfortunately been in those situations. So it wasn't the fact that I visited a school after a shooting occurred or I visited a crime scene after the crime has been committed. I have been in those situations and the best way to stop that situation is to sometimes have somebody that has the resource to do that. And I respect our security detail, thank the world of Smitty and his team, but they're not armed."
4. What's one thing you would like to change about Lane?  
"I would like more communication to the parents, and I would like more of a say [in] what goes on in our children's education. I've kind of been, for lack of a better word, kind of a pain when it comes to homework. I've been raising that since I've been on for four years now, that we need to be conscious of the homework that we're putting on students. I'm not a fan of homework over the break cause you know that you do need time to decompress. We're a highly competitive school, but you have to have time to be a student as well and do your extracurricular activities and be able to interact with your parents and your family. … And you know usually the response is Lane is high-performing and we need to do it. I understand some of the work with the AP courses. But you know again you need some time to actually be a person, not be a student full-time. And one other thing I deal with [at Lane and in CPS] is that I notice that you've got folks that want to focus on the top 5% of the student body almost exclusively and we need to be more rigorous and be more challenging for the students. And then you've got the group that is more focused on the bottom 5 percent of the students, that we need to address that and have more resources for those students. Both of those are fine, but I always ask 'what about the other 90% of the students?' That nobody seems to be paying attention to them, so that's always been my focus. That was one thing I said when I first ran for LSC, that I wanted to make sure that we were looking out for the needs of all the students, and not just be focusing on the top or the bottom half of the bell curve."
5. Why should voters elect you? 
"I think the reason the parents should vote for me is that I would actually listen to the parents. Again, I respect the other stakeholders, but if I'm elected as a parent rep, I need to listen to and respect the wishes of the parents. Regardless of what my political beliefs may be, you know if you have an outside group that wants to force all the kids to do the pledge of allegiance, that's not my focus. It's what the parents want."
6. What is your favorite thing about Lane?
"My favorite thing is that there's something for everybody. And that's what I tell people when they ask if they should recommend Lane for their children. And I always say that there's something for everybody at Lane. So, you're always gonna find your niche in Lane. There's always gonna be a group of supportive people for you at Lane. You know it's not like if I don't make it into this club, I'm lost or if I don't make it in, on to this sports team, I'm lost. There's always something that is there and that, that comes from the student body, the faculty, the administration. You know at a small school if you don't have a teacher that you feel comfortable talking to it's going to be difficult, but at Lane, there's so many wonderful teachers and staff members, that you're gonna find someone that I think you can confide in. You're gonna find a group of friends that you can confide in. And I always said that Lane produces more well-rounded students, in my opinion, than some of the other schools."
7. What's one fun fact about yourself?
"I collect comic books. So I'm kind of a geek in that regard."
ANNE LOKKEN (INCUMBENT)
Summer voting record:
Voted to remove Indian symbol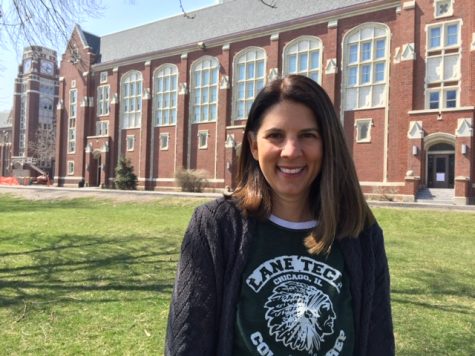 Voted to remove school resource officers
1. Why are you running for the LSC?
"I'm running because, personally, I find the work rewarding. I am interested in continuing working towards increasing awareness and focus on social-emotional and diverse learning at Lane. I am very much interested and supportive of the administration's diversity and inclusion work and I'd like to see that continue and I'd like to continue to support the administration and their efforts in that area."
2. What are your thoughts on the LSC's decision on the mascot this summer? 
"I think that the entire LSC, all of the members, whom I have a lot of respect for, put a lot of time and effort into gathering information and stakeholder input, reviewing materials and listening to public statements and reading emails. And ultimately I think the correct conclusion was reached. It was a unanimous decision by the LSC."
3. What are your thoughts on the LSC's decision on school resource officers this summer?
"That was obviously a divided issue. I think a very complicated issue and one that I spent a lot of time wrestling with. Like I said, it was definitely an issue that was divided but in which reasonable individuals could reach a different conclusion I think. For me personally, I spent a lot of time, weeks, many weeks, reviewing a lot of pieces of information. We got over a hundred emails on the issue that I read. We got a letter from the alderman. I listened to more than an hour of public comment on the issue. I did my own independent research, looking at academic articles and studies on the issues that were related. It was a tough one, and one that actually my opinion sort of changed over time, the more information I gathered. We also were privy to internal documents that were provided to the LSC, and I did look at those as well. That included a CPS survey that was done, as well as data regarding police notifications and the racial makeup of those notifications among Lane students too. So we were able to look at that information and I reached the decision that I thought was best. Like I said I know there's people who disagree with that, but I did the best I could with the information I had and I took it, took it seriously."
4. What's one thing you would like to change about Lane?  
"One thing that I think would be helpful, one thing I hear from other parents and that I've experienced myself, having two students at Lane, is that there is a lot of variation and inconsistency with respect to the amount of work often in the same classes with just different professors and grading. And so I think that that's a struggle where students really struggle and parents really struggle and an area that could be improved upon. Having more consistency among the classes and the teachers."
5. Why should voters elect you? 
"I take my job seriously. I'm willing to make difficult decisions even when they're perhaps unpopular with some. I have a lot of experience on LSCs. I'm running for my third term on Lane's LSC, and I've been a Lane parent since 2014. Prior to that I served two terms, or four years, on an elementary school LSC. In terms of my professional background, I was a school lawyer for 12 years. So I have experience in practicing in the areas of special education law, student and constitutional issues. I did some employment discrimination as well. And then more recently, have been an administrative hearing officer for public school districts with student discipline, residency, and section 504 hearings mostly. So I do have a sort of long history and interest in public schools and a background I think that lends itself well to continuing to serve on the LSC."
 6. What is your favorite thing about Lane?
"I love its diversity and I love the really wide range of course electives. I think it really allows students to find a passion in a way that no other school in the city is able to do."
7. What's one fun fact about yourself?
"I guess I would say I am an avid reader and not picky about the genre I read, either. I'll read anything from non-fiction to science fiction to young adult to traditional literature. So I do read a lot."