On or off? The issue of cameras in class
One of the things Mr. Campos loves about teaching AP World History is seeing the bright, smiling faces of his students every day. But this year, his classes are vastly different from what he's used to. Instead of faces, he's greeted with a screen of colorful avatars.
"We [teachers] want to be ourselves as much as we can, but it's really hard when you're just staring at a computer screen and no one else is willing to do it with you and engage in the interaction," said Campos.
The past year for CPS has been unique, marked by the ins and outs of virtual learning. Despite attempts by both students and teachers alike to adapt to learning reliant on technology, one issue remains the elephant in the room: cameras in class. 
Keeping cameras on or off is a practice by students that sees some variation. Some students manage to keep their camera on for most or all class periods, many may have tech issues that prevent cameras from being on all day, and others feel uncomfortable with turning on their camera at all. 
Luke Patton Van-Buskirk, Div. 263, has an inconsistent routine when it comes to keeping his camera on. He dislikes the anxiety that comes with enabling his webcam.
"I worry about what I'm doing and what my room looks like, and what people might be able to do with just a picture of my room," Patton Van-Buskirk said. "And I'm also worried that a teacher might complain that I'm not presentable enough to be in class."
Diagnosed with ADD, Patton Van-Buskirk related his personal experiences to why some students with anxiety or attention-deficit disorders may not turn on their cameras. Turning off cameras can go a long way in boosting a student's focus and participation in class, since it erases unwanted attention that is brought to their face if their camera was otherwise enabled, according to Patton Van-Buskirk.
"I have a little bouncy ball that sometimes I just throw at my wall and catch, and that actually helps me focus a lot," Patton Van-Buskirk said. "But I wouldn't do that when my camera is on, because I don't want to get yelled at."
The change from in-person learning to online school has seen numerous controversies, many of which are highlighted by privacy-invasive technology. A number of schools have shown a preference for convenience and easy use rather than considering a product or platform that will best preserve student privacy, according to privacy organization IAPP. Google Meet allows for students to change or blur their background. But despite this feature, enabled cameras are able to give a view of a person's home, and privacy remains a significant concern that may influence students to keep the cameras off.
"I think by having a camera on, that invites other people to see a part of your life that's really private and intimate," Patton Van-Buskirk said. "And I think that's really difficult for a lot of people."
For Judy Mendoza, Div. 277, keeping her camera on or off depends on circumstances in her household. 
"I keep it off because I'm usually busy most of the time," Mendoza said. "I do the work teachers assign during asynchronous time, and I keep it off because I usually have distractions in the background, like my siblings."
Mendoza's siblings are also CPS students who need tending to, occasionally drawing her away from class. Sometimes they'll come into her room and ask for help, and being the oldest sibling in her family means she's obligated to lend a helping hand. 
Familial distractions, according to Mendoza, are not limited to just her siblings.
"My grandma, who also lives with us, will ask me to do something for her, and I don't want everybody to think that I'm not paying attention," Mendoza said. "But I am. I just have other people that I need to keep an eye on."
By turning off cameras, students can feel more comfortable in a strange learning environment. But this comfort does not exactly extend to everyone. The shift from teaching an in-person class to dealing with a screen has always been a huge challenge for teachers. While there may be some teachers who have grown accustomed to these circumstances, many are still hanging on to a glimpse of teacher life before the pandemic — a glimpse lost in the jarring differences of a virtual classroom.
For Campos, a large part of his job is the desire to build relationships with his students. But online learning has made that challenging and different, he said.
"So few students are willing, on their own, to turn their cameras on that it can become a little hard to gauge any type of level of interest or even have any type of banter, which is something I always look forward to," Campos said.
Online school, Campos said, has damaged the valuable connection between students and their teachers. Because some students have yet to turn on their cameras this year, Campos doesn't even know what some of them look like, and that's detrimental to what he feels makes a great classroom environment.
"And getting to know people, and not being able to see that and people's faces if you're making a joke, it's really, really hard to feel like there is an environment," he said.
The tradeoff needed to drive an efficient class can be difficult to maintain. Teachers need to know if students are learning the material being taught and if it is being taught effectively. But a lack of visual feedback would make that difficult. However, Campos also recognizes that forcing students to turn on cameras and speak in class wouldn't nurture a positive workspace. 
"It's a little hard to walk both of those lines because, on one hand, I never became a teacher to scream facts about the Ottoman Empire into the abyss of avatars and black rectangles," Campos said. "But on the other hand, I want to be really sensitive about the fact that this is crazy, what we're being expected to do on all fronts. And I don't want to make that harder for people."
Along with building personal connections, students' integrity also hangs in the air. Lane's administration doesn't require teachers to enforce students to turn on cameras for quizzes and tests, but they hold their own sentiment about this policy.
"The administration believes that enabling cameras for instruction, including when students are taking assessments, is sound practice," said Assistant Principal Thompson in an email to The Champion.
Cameras provide a view (albeit a limited one) for teachers to see their students. Despite this, kids can still find elusive ways to cheat. 
Campos can't stop his students from cheating, he said. But as a part of the adaptation process, he has made changes to overcome this obstacle.
"It's trying to learn to structure all of my assignments in such a way where I still win," he said. "Even if they've gotten an answer from a previous period or they're doing some furious Google searching, they're going to have to craft it into thoughts and into complete answers that address unique questions."
Students like Patton Van-Buskirk and Mendoza recognize that teachers face difficulties when it comes to online learning. When Mendoza finds opportunities to turn her camera on, she'll make her engagement known.
"Everybody has their camera turned off, so it's like talking to a wall," Mendoza said. "So, I turn it on for the teacher to let them know I'm paying attention and engaging with their lesson."
But the tradeoff, as Campos explained, is undoubtedly difficult to tread. With the ongoing pandemic, it's unclear how long online school will last for high schoolers. With distance created by different concerns among teachers and students, class online has further separated itself from class in person.
"I do have certain classes that stand out even with people having their cameras off," Campos said. "They still participate and will talk to me and it's nice, but I think for both teachers and students, the whole experience of school in this format is pretty lonely."
About the Contributors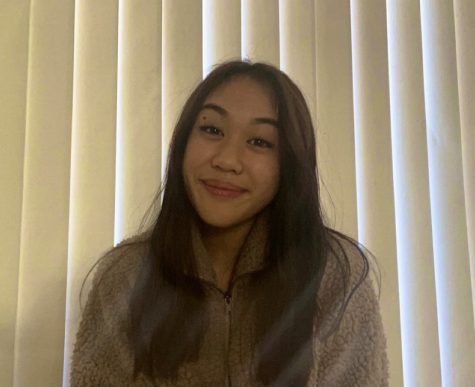 Megan Camacho, Assistant Editor
Megan, a junior, is in her first year with The Champion. When she isn't holding a lacrosse stick or out with friends in the city, she's fervently writing...