Lane reflects on the effects of the COVID-19 pandemic
As a school, Lane has been under remote learning due to the COVID-19 pandemic since last March. At first, the school was closed for two weeks, until it was announced by Gov. Pritzker that the school year would be completed remotely for the rest of the year.
Since last March, Lane has resorted to virtual school days. From the start of lockdown to the end of the year, Lane had a block schedule for four days each week. The first four classes were on Monday and Wednesday and the last four classes took place on Tuesday and Thursday. Each class was 30 minutes long, the school day ended in the mid-day. 
Dr. Gilson, the school's psychologist, who works to keep Lane as healthy and productive as possible, was confused when Lane first went remote, "I was incredibly disappointed, and I didn't know how teachers could teach in a medium that none of them were trained to teach in. I didn't know how I'd be able to do my work. I didn't know how our students were going to learn," said Dr. Gilson. 
At the beginning of the 2020-21 school year, Lane transitioned to all virtual all eight hours and five days a week as per a CPS mandate. 
Virtual classes posed challenges for student life all around Lane.  The cluster program saw interruptions, fine arts classes changed the way they were going to be teaching, sports seasons were interrupted, even the theater department saw interruptions. 
"I think that what's happening with at least most of the students that I've worked with this year is just that a crisis of disconnection, just being a part of a larger community," Gilson said. 
Gilson brought up teenagers' necessity to be around their peers and friendships, she believes that students would say they miss a sense of community and connection. 
Cristina Liberto, Junior Class Senator,  Div. 277, agrees with Gilson's statement of students missing the social aspect of school life. 
"There is only so much social media can do, I mean it has connected us, I'm grateful that it exists because I couldn't imagine doing this without social media," said Liberto. 
While Gilson works with a limited pool of students, she sees school as essential in the lives of students.  
"School is the one place kids get a lot of traction in their lives and there has been a lot of interruptions," said Gilson. 
Liberto believes that some students are having doubts about their futures because of the time they are not in the building. Liberto, being a junior, sees seniors struggling because they are missing out on this important part of their adolescence. 
Liberto and the rest of the  Junior Student Council are working to organize a time capsule for the entire school. They are encouraging students to submit mementos that have marked their time since the stay-at-home order was placed. The project title, "167 and counting" stems from the days that students have been away from the building. 
"The idea behind the project is that we create a time capsule of just any type of little things that really capture what quarantine, the pandemic, was for students," Liberto said. 
Their plan is to publish every submission to a website so that it could exist forever. 
This time last year, students may have felt like they were living through a crisis. Liberto said she remembered being naive, last year. 
"I thought that if I stayed home the two weeks that this will all be over and obviously that didn't happen, so this time a year ago, I was definitely naive," Liberto said. 
Some might say that students' mental health has been most affected since being at home most days. The CDC and the New York Times reported on teenagers' mental health in the age of COVID-19. The CDC states that distancing themselves from loved ones and learning to adapt to new routines is harmful to teenagers. Gilson agrees with the CDC and The New York Times. 
"Maybe some students will have a greater appreciation of their mental health and will learn ways to better safeguard their mental health," Gilson said. 
With time at home, Lane students and staff members have had time to reflect on what they have missed and learned from living through a pandemic. 
"I definitely learned that we have to admire and appreciate the little things because they are really not guaranteed," Liberto said. 
Within the last year, a lot has happened, vaccines were developed, states opened up, variants of COVID-19 were discovered, and now there seems to be a light at the end of the tunnel, with vaccines getting distributed and plans to open up being developed. 
Liberto said, "I will say that Lane students as a whole have definitely kept their optimism, just a little bit of optimism. It's not a lot but just a little bit of faith in all of us. So I'm proud of that."
About the Writer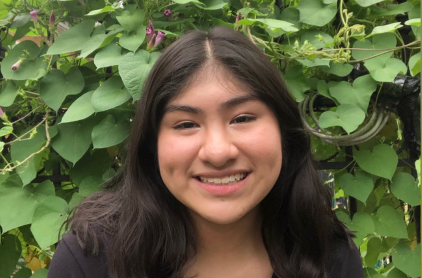 Emily Delgado, A&E Editor
Emily, a senior, is returning to The Champion (formerly The Warrior) for her second and final year. A beginner guitar player, Emily enjoys listening to...