BREAKING: Lane building evacuated Thursday night after mercury found in bathroom
UPDATE: In a message to the Lane community shortly after midnight Friday morning, Principal Edwina Thompson announced school will be in session on Friday, Jan. 13.
"Based on a thorough assessment of the entire school building by the CPS Department of Facilities and a hazardous materials response team that did not find widespread elevated levels of mercury, the school has been cleared for re-occupancy," she wrote. "Today's school day will proceed at Lane Tech as usual."
Room 346, as well as Bathrooms 1J, 2J and 3J, will be off-limits Friday and receive extra cleaning this weekend "out of an abundance of caution."
A small quantity of mercury found in one of the Lane Tech bathrooms caused a school evacuation Thursday evening around 6 p.m., Lane Tech Principal Edwina Thompson announced in a school-wide email this evening.
"The area was immediately secured and we are working with the CPS Office of Facilities and a hazardous materials response team to assess the situation," Thompson said in the email.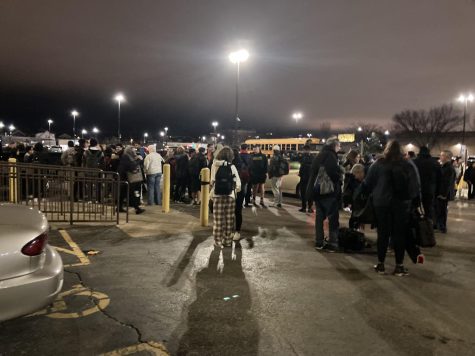 People still in the building were forced to evacuate starting around 5:50 p.m., interrupting student events, such as a Lane vs. Taft girls basketball game, and causing the January LSC meeting, set to start at 6:00 p.m., to be postponed.
Shortly after the closure, a sign was posted to the Door M window reading, "all events are canceled for tonight."
Senior Natalia Caid said she went to the third floor girls bathroom near J in the middle of seventh period when she found a metallic-looking substance in the toilet in the stall closest to the entrance. 
"I was like, that looks like liquid metal, I hope that's not mercury. So I took a picture of it. And then I came back. I showed it to my teacher, Mr. W[awrzyczek], and I was just like, 'I should do something about this right?'" Caid told The Champion.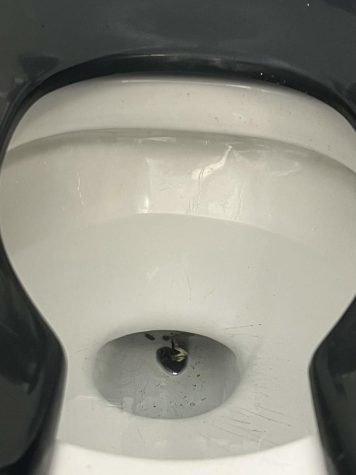 Caid emailed Thompson and heard back during eighth period that the school would look into it. She got updates from Wawrzyczek via Google Chat. Around 4:30 p.m. Caid said she received a message from him that a hazmat team was investigating and close to seven she got another message asking for the photo she said.
"I have no clue how it got there," Caid said.
Senior Mugdim Kreho told The Champion he was in the library after school between four and five p.m. when he heard a message on the loudspeaker saying not to go to some of the bathrooms.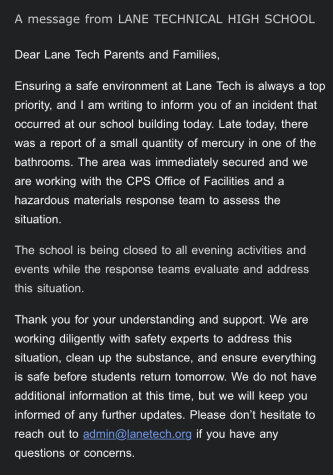 "I didn't really pay attention to it, so I forgot about it until the referee during the Lane Tech vs. Taft girls basketball game had to evacuate us right before the second half started," Kreho told The Champion via direct message.
The school initially kept the reason for the closure under wraps, though rumors about mercury had begun floating around social media. A security guard leaving the building around 6:30 p.m. told The Champion he could not comment. Nearly an hour after the evacuation, Thompson's email was sent out to the Lane community.
The message included that the school is "working diligently with safety experts to address this situation, clean up the substance and ensure everything is safe before students return tomorrow." 
Principal Thompson sent The Champion her school-wide announcement, but could not share any more information.
This story is developing