Football's offense stifled in rivalry loss to Whitney
The self-proclaimed Schools of Champions became the Schools of Defense Friday night under the lights at Lane Stadium.
Whitney Young's defense would get the only touchdown the Dolphins had all day — a 70-yard pick-six from Aleksander Dale — but that combined with a field goal would be all Whitney needed to get past Lane 10-8 in the Illini-Land of Lincoln Conference opener for both teams.
Lines stretched far and wide outside Lane Stadium as fans filed in wearing black and white for the "black-out" and "white-out" student sections for Whitney and Lane, respectively.
The fans, louder than at any contest this season for both teams, traded chants at each other as the players went to work on the field.
"This was a rivalry when I went to Whitney Young," Whitney Head Coach Daniel Finger said postgame. "This is a huge rivalry and, you know, a bunch of our guys know guys who play and go to Lane, a bunch of their guys obviously know [our guys]. So it was really important for us to have support."
Sloppy play haunted the teams out of the gate, with two incomplete passes by Lane's Donnell Adams to start the game, which would set the pace for both teams. Early fumbles by both teams led to back-and-forth scoreless possessions.
After the slow start, scoring started in exciting fashion with the 70-yard pick-six by Dale, putting the Dolphins up 7-0 with 50 seconds left in the first half.
"Normally, our receivers have been catching the ball very well all season, but tonight we didn't catch the ball well. We had one major turnover with the pick-six — it's just the little things, we're not far off," Lane Head Coach Dedrick Dewalt said postgame. 
With the second quarter came a new quarterback for Lane, Mark Seward, and some points on the scoreboard. Seward would play the second and most of the fourth quarter, while Adams played the first, third and start of the fourth quarter.
It only took a two-minute drive for Lane to take the lead, with Daehyun Kim punched in a 1-yard touchdown run with 10:35 left in the second quarter to put Lane on the scoreboard. The extra point was blocked, keeping the lead in Whitney's favor 7-6.
The lead stayed at one for seven minutes until the Dolphins, accompanied by some penalties to move the football up the field, would convert a 28-yard field goal to put the Dolphins up 10-6, which would end up being the final points of the day for Whitney.
Both teams' offenses quieted down the rest of the half, with the final minutes of the second quarter going scoreless. A last-second throw to the end zone by Whitney was picked off by Finn Merrill and returned 29 yards to close out the first half.
With seven minutes left in the third quarter, Lane regained their momentum when Kevin Medina blocked a Whitney Young punt, sending the ball bouncing through the back of the end zone for a safety in the third quarter with seven minutes left, to put Lane within a field goal of the lead.
Lane squandered two chances in the fourth quarter. First, a 42-yard field goal attempt had a bad hold from Payton Gavaldon and kicker Simon Olson wasn't able to put boot to leather. Gavaldon, recovering the bad snap, tried to get the first down but was ultimately stopped by the Dolphins. 
Later in the quarter, on Lane's final possession of the game and with a chance to take the lead with a 28-yard field goal, the kick was blocked. Four first downs off of runs by Whitney would clinch the Dolphins' victory.
This win comes after Whitney's promotion to Lane's conference earlier this year after a strong spring 2021 season, and for Finger, opening up conference play with a win was important for the Dolphins.
"It's been so long since we were up here," Finger said. "And we firmly believe as a coaching staff — and we've been telling our guys — that we belong at this conference, so having some evidence of it, despite not playing our best, and coming out with a W is going to be huge as a momentum builder going forward."
While the Dolphins enter a new stage with their fresh momentum, Lane looks to rebuild. 
"This is really my first year — I know we had the spring season — that was pretty successful but we had a great group of seniors coming out of that class and it's a shame I only had the chance to coach them three games but it's a process. Me being here only for my first year and a half, I got to get the type of players that I need with the things that I want to do here with the football program," Dewalt said. "There's a few mistakes here and there but like I said, tonight, a lot of dropped balls, a lot of penalties, and that's going to beat you every time."
Despite the rough night, Lane did see big-time play from running back/wide receiver Kim, and Merrill, who recovered a muffed punt in the fourth quarter, in addition to his interception to end the first half.
Lane will once again look to get in the win column for the first time this season against the Lincoln Park Lions on Sept. 17. Kickoff is set for 7 p.m. at Lane Stadium.
"It starts in practice, we've got to be more intense and when the opportunity presents itself, just make sure we execute," Lane quarterback Donnell Adams said. "I expect us to really finish strong because I believe we really got it, all eleven of us, at the same time. We just got to make sure we stay confident in big games. But I believe in my brothers, that's why I'm playing with them."
About the Contributors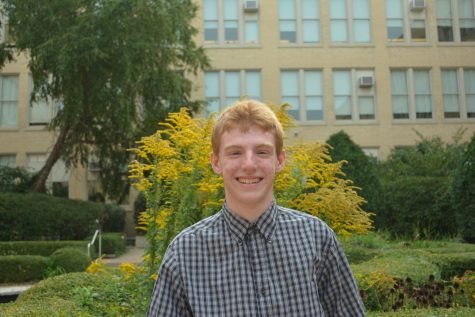 Alex Burstein, Editor-in-Chief
Alex is a junior in his third year with The Champion. With a passion for journalism, Alex spends most of his time covering news and sports for the paper...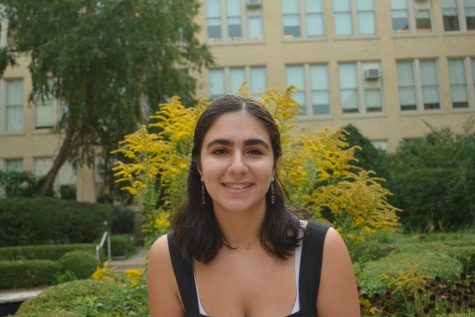 Mara Mellits, Editor-in-Chief
Mara is a senior and this is her second year with The Champion. A creator at heart, Mara loves to read and write stories. She also loves creating art and...