Wrestling team dethrones Taft as city champions
Youth and experience combine to carry team through competitive season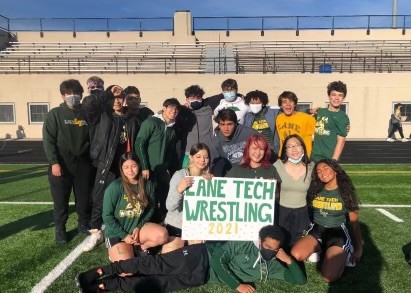 Heading into this year, freshman Alex Valentin had never stepped foot on a wrestling mat.
Now, just a few months later, Valentin can claim his title as the best 106 pound wrestler in the Chicago Public League.
"I originally decided to join the wrestling team at Lane because [of] my friend, Finn Merrill. He asked me to join the wrestling team when I was playing football, and I just said yes," Valentin said. "And I went to open mat and I loved it."
Valentin was one of four individual city champions for Lane at the city championships, as Lane rolled to the overall team title.
"It feels really good to be a city champ," Valentin said. "Lane Tech hasn't had this in over a decade. And this is my first year wrestling, so it just feels even better."
Head Coach Matthew Yan took home his first city title on Jan. 29-30, as Lane took home the city title at De La Salle High School. This broke up Taft's three-year title streak.
"[It's] definitely gratifying after the four plus years of work that I've put in here and our kids have put in," Yan said. "It's been a lot of work behind the scenes. Spring, summer, fall, winter — we've been going for four years now through the pandemic. And finally, we're getting some results."
Lane put up 282.5 points to take home the team title, to go along with four individual titles and eleven placewinners in the fourteen classes. This was the first title under Yan, in his fifth season as head coach.
Lane's score was nearly 60 points higher than Taft's, who scored 227 and placed second.
The title came after one of the toughest regular seasons in recent team history, with two multi-day tournaments, something Yan purposefully scheduled for a team he saw lots of potential in.
The tough regular season paid off as Lane rolled to the city championship, largely due to Alex Valentin (106 pound weight class), Evan Coles (113), Finn Merrill (145) and Fernando Lopez (152), Lane's four individual champions in their respective weight classes.
Merrill Impressed at the city tournament defeating an opponent he had already lost to this season en route to the title, according to Yan.
Two of Lane's other champions, Coles and Lopez, showed a mix of the new and old that built Lane's program this year.
"Evan [Coles has] really only been wrestling a year and a half — since eighth grade. He wrestled a little bit in eighth grade," Yan said. "Fernando [Lopez has] been wrestling a while, so I kind of expected him to win when he had a tough come from behind victory and finals too."
While the biggest scores came from Lane's four winners, the key to bringing home the title were the wrestlers who kept on racking up wins even after losing in the championship bracket.
"Your big guns on the championship side are going to score a lot of points," Yan said. "But if your guys on the backside don't score, you're going to lose the tournament. You have to have guys still alive to keep scoring."
Patrick Cabrera (160) may have represented this best for Lane, with five pins and nineteen team points despite an injury en route to a sixth place finish.
Lane almost put three more wrestlers into first place, with James Zavala (120), Matt Ridley (126) and Gustavo Diaz (182) all falling in the finals. Diaz, according to Yan, was wrestling a weight down from where he was most of the year.
Marcello Valle (132) and Mehdi Tlich (285) finished fifth and fourth, respectively, in their classes. Cesar Mucha (138), another freshman, placed third.
Now, before next season comes and Lane attempts to defend their title, they will look to keep their success going in the state series. Boys individual regionals took place on Feb. 5, with Lane wrestler's scoring the fourth most points in the Maine South regional behind Maine South, York and Taft. They outscored Leyden, Maine East, Maine West and Niles West.
Valentin (second), Zavala (third), Felix Zavala (third – 138), Finn Merrill (first) and Lopez (second) all placed top three at regionals to advance to sectionals.
Girls and boys sectionals will take place this upcoming weekend, starting on Friday. The girls will compete at Evanston, and the boys will compete at Conant. The girls did not have regionals, and there was no girls city tournament this year, according to Yan.