Lane takes home boys CPL indoor track and field title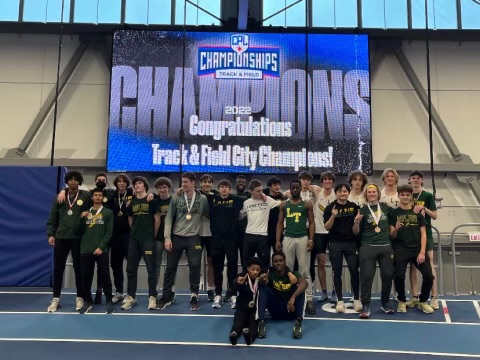 As Will Kozlowski entered the final lap of the boys 1600 race at the Chicago Public League city finals, he looked at the clock and thought he wasn't going to make the finish line in time.
One lap later and the sophomore runner was taking home the city title, running a 4:24:55, a personal record.
While the individual title will go to Kozlowski, his win helped Lane bring home another championship that day — a boys indoor track and field city title.
"I mean I'm just super happy with the fact that I was able to contribute to the team," Kozlowski said. "Because in middle school, I didn't really have a team. It was mostly just me. And so being able to run with a group of guys that everybody's got skill is awesome."
The competition was held March 19 at the new Gately Indoor Track, and Lane entered looking to contend for the title, according to Boys Track and Field Head Coach Kristopher Roof. 
"We went in there expecting to win, and we were able to do what we needed to do," Roof said.
After a long day of competition, Lane was able to roll to the city tile, finishing with 112 points. Kenwood finished second with 74 points.
"Ultimately, it wasn't as close as I thought it would be," Roof said. "And that came down to a couple of our kids really stepping up and not so much Kenwood faltering. Pretty much just some of our younger guys really improving a lot, dramatically."
The story for boys track heading into the season was the distance runners. With Hunter Whitney, an IHSA state final runner in cross country, and Jack Klein leading the way, along with runners like Kozlowski and William Archer following closely behind, the top events for Lane looked like they would be at 800 meters and up for Lane.
The predictions held true at city. Lane brought home first in the 1600 with Kozlowski and the 800 with Klein (Whitney finished third). Tommy Stecz, another Lane distance runner, took third place in the 3200.
Adding to the long-distance achievements was Lane's 4-by-800 relay, though the win came in interesting fashion. Roof combined two of Lane's veterans with two newer runners, giving some of Lane's top distance runners a rest after they competed in other races. 
"We had Emmett Kennedy and Will Archer and then we put a sophomore, Anan Bauman, and then a junior, Sam Osorio, who [this was] his first varsity race and [Kennedy and Archer] got them a lead," Roof said. "Then [Bauman and Osorio], they just ran with a lot of composure and they're getting chased down and they didn't falter. So I was really pleased with that race."
While the distance runners did their job, contributions from the sprinters also helped fuel the city title for Lane — especially in the shorter relays.
"The 4×200 [meters] set a school record. And that four by two, pretty much all four of those guys are brand new to varsity," Roof said. "You have Benji Agunloye who's came out for lacrosse and football — never run track before, he's a senior. And then you have Demanstanis Nicopolis. So we call him Nico and Nico ended up getting second in the 200 which was a big shock to everybody."
Agunloye and Nicopolis teamed up with Ethan Seith and Cameron Shaw to take home second in the 4-by-200. Lane would add a third and fourth place in the 400, compliments of Nick Gestrich and Emmett Kennedy, and a second place finish in the 4-by-400, with Seitz, Archer, Klein and Kennedy running.
The final piece of the puzzle for Lane came in the field events.
Lane put two on the podium in shot put, with Francisco Roman and Evan Stein taking first and third. Lane added more points in the jumping events.
"Cam Shaw getting third in long jump was a big surprise," Roof said. "Abraham Ailemen's our best jumper. He's been nursing a hamstring injury. And so we didn't let him jump long jump, and we only let him do a short approach for triple jump just to test his leg out. He's [has] jumped 45 feet. With a short approach, he did 39 [and] he got second."
Following the indoor championship, Lane now transitions into outdoor season. Kozlowski believes the indoor championship will provide some momentum as Lane heads outdoors.
"It's just a good way to tell our opponents, 'Hey, we're here. We're gonna do well this season,'" Kozlowski said.
Meghan Mansfield contributed reporting.