Girls swimming and diving makes it two years in a row, wins CPS city title
Nine championships in 11 years would be considered a dynasty in professional sports. According to Lane interim girls swimming and diving head coach Lance Grossman, that's exactly what the Lane girls swimming and diving team has done.
"We won nine of the last 11 [CPS city championships], but they have not been easy the last few years, that's for sure," Grossman said. "Whitney and Jones and Northside are always great challenges in the Chicago Public League. They all have great teams."
That ninth title came this year, with Lane winning the city championship for the second straight year. But this year's championship looked a little different.
Due to COVID-19, instead of the usual city championships where many teams come to compete, this year's championship was a dual meet, featuring the top two teams, ranked by regular season wins.
The two teams this year: Whitney Young and undefeated Lane.
"We were hopeful that we would win because we beat Northside by one point and Whitney, who we're competing against at the city championships, had lost to Northside," captain Cece Joshi, Div. 152, said.
"So we were hopeful that that showed that we would beat Whitney, but we also weren't sure if Whitney had improved since they had raced against Northside, or if they had had all of their best swimmers swimming against Northside," Joshi continued.
Their hope turned into reality, as Lane defeated Whitney to win the city championship. Strong performances from Maddie Zehr, Div. 272, (2:10.28 in the 200 individual medley, a Whitney Young pool record, and 1:05.34 in the 100 breaststroke, a CPS City championship and Lane Tech school record), Meghan Mansfield, Div. 368, (5:25.07 in the 500 butterfly stroke, a best in city time) and Jannie Esperon, Div. 281, (a season best 25.00 in the 50 freestyle to win first place), among others.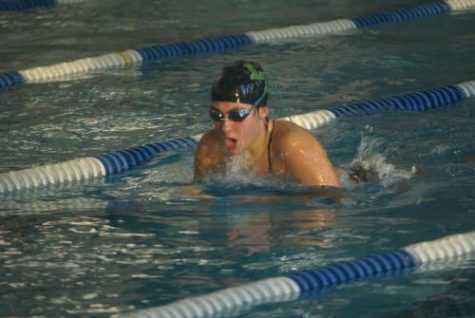 "We were really, really excited," Joshi said. "I think almost more excited than we were the year before because it had been so hard to get through the season."
The season didn't go without any challenges: the second week of the season, Lane found out that there was a positive case within the program, which caused the team to shut down for close to a week, according to Grossman.
"Although it made everybody concerned that we wouldn't get through this season, there were no positive tests after that," Grossman said. "Everybody was healthy, and happy with the fact that they could train and be part of the team. And overall I think we were just thankful that we were allowed to compete and have our sport because obviously other fall teams were not nearly as lucky as we were."
The team was able to rebound from the shutdown, finishing with a 5-0 regular season dual meet record, a city championship and a strong state sectionals performance.
Lane placed second at the Whitney Young sectional, their highest team finish in the last ten years according to Grossman, and also saw Zehr set a new school record and placed first in the 100-yard breaststroke.
"I think everyone was really happy [with the sectional results], especially because Maddie Zehr got a new team record so that was very exciting," Joshi said. "And that was also the last event, so we really ended our sectionals off on a good note, and also this was the first time in a long time that we placed second at sectionals, so that was another really exciting outcome for our team.
Despite the strong performance at sectionals, the state championship was not held due to COVID.
"It really felt like the season ended abruptly after the sectional meet — the meets were very strange and quiet," Grossman said. "Usually they're very crowded and loud with a lot of enthusiasm and hundreds and hundreds of people on deck. It was more like having a swim meet in a library. But then the season ended after the sectional meet, and it was time to go home. But we were excited to see that we ranked twentieth in the state based on our dual meet and sectional meet performances, so we were pleased with that result."