Boys basketball stages furious second half comeback to beat North Lawndale in conference opener
A thirteen point halftime deficit turned into a five point Lane Tech win, as the boys varsity basketball team started Chicago Public League Red West-North play Dec. 8 with a 58-53 win over North Lawndale (3-4, 0-1 conference).
Powered by 37 combined points by the backcourt of Ethan Grunebaum (17 points) and Sean Molloy (20 points), Lane improved to 7-1 overall, their best start in recent history. Lane trailed almost the entire game, until a three from Grunebaum with a minute left in the game gave Lane their first lead since the first quarter.
Familiarity breeds contempt. Sort of. Whether it's the coaches, fans or players, conference play means getting to know one another. It means games matter just that little bit more. When its conference play, it means everyone's bringing the heat.
Amid a raucous atmosphere at Lane Wednesday, Dec. 8, Lane varsity basketball found themselves down 13 at the half, and up 6 in the end, having come back to beat North Lawndale 58-52.       
With the crowd and the energy on their side, Lane started strong, taking an early 6-3 lead in the first quarter. That would be the last positive of the first half for Lane, however, as Lawndale settled into the game and took control, hurtling out to a 22-13 lead to end the first quarter. Utilizing a press and halfcourt trap, North Lawndale forced Lane into mistake after mistake, cashing in on ill-advised passes and defensive lapses to build their lead. 
"I thought we took too many risks defensively, and offensively — the offensive risks lead to breakouts and transition for them, which is where they were scoring," Head Coach Nicholas LoGalbo said postgame.   
In the first half Lane simply could not — except for a few instances — figure out Lawndale's zone and trap. For Lane it wasn't even about knowing what to do, it was just about doing it correctly.   
"We repped it for a half hour yesterday, we knew exactly what we needed to do. They sped us up, right. We knew where our looks were gonna come," LoGalbo said. "We knew we needed to work inside out. But early, we tried to make, again, those cross court high risk passes instead of just hitting middle and looking opposite." 
It's rare to see nearly 40 points in one half from a high school team, but North Lawndale nearly did it, putting up 37. They were balanced, with every player in the starting lineup having scored. The opposite was true of Lane — only Sean Molloy and Ethan Grunebaum contributed any real offense in the first half.
"They weren't really a big shooting team. They were killing us on the boards," Grunebaum said postgame. "So we know we had to switch to zone, pack it in, look for the rebounds and then kick out, not let them get set on D."
At halftime North Lawndale scored on a near buzzer beater making the score 37-24. For Lane, things looked grim.
"We made an adjustment, we packed in our zone, and just really talked about prioritizing, just getting a shot; it doesn't need to be a touchdown on every play. Just chip away, chip away, chip away and the guys did that," LoGalbo said.  
The zone worked: Lane held Lawndale to only 16 second half points while scoring 34 of their own. North Lawndale's press and trap stopped working.  
"We couldn't get the lid off. And finally we saw one going in, and then late we made the shots we needed to make," LoGalbo said.   
In the fourth quarter, as the game began to turn in Lane's favor, Molloy (who finished with 20 points) would again and again bury his free throws. On the other end, North Lawndale struggled, possibly succumbing to Lane fans' raucous atmosphere.
"They're the sixth man. They created that energy tonight and we fed off that energy, and they're a big part of why we won that game," Logalbo said.  
In the end, Grunebaum (who finished with 17 points) was the hero. He hit a three off an inbounds pass to take a lead which Lane would never relinquish.
"Well, I knew that we ran that play the last time and I missed it. But I knew that play was gonna work. It was a great screen by my teammates — great pass from Sean [Molloy]. I just found a way to hit it," Grunebaum said.
Lane beat Schurz Friday, Dec. 10, 77-36 and lost to Oak Park River Forest 80-60 on Saturday, Dec. 11. They improve to a 8-2 record overall, 2-0 in conference play. They take on Marshall on Wednesday. 
About the Contributors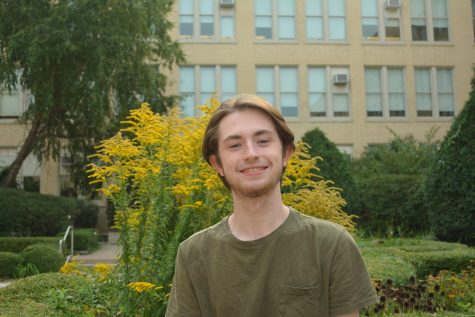 Theo Gary, Managing Editor
Theo is a senior in his second year at The Champion. A part of the Omega program, Theo is passionate about reading, writing and history. In his free time,...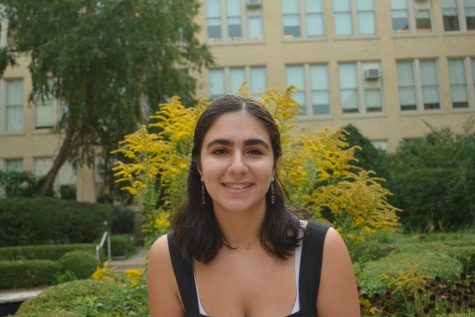 Mara Mellits, Editor-in-Chief
Mara is a senior and this is her second year with The Champion. A creator at heart, Mara loves to read and write stories. She also loves creating art and...