Low viewership, lack of diversity, and an American bias: Are the Oscars irrelevant?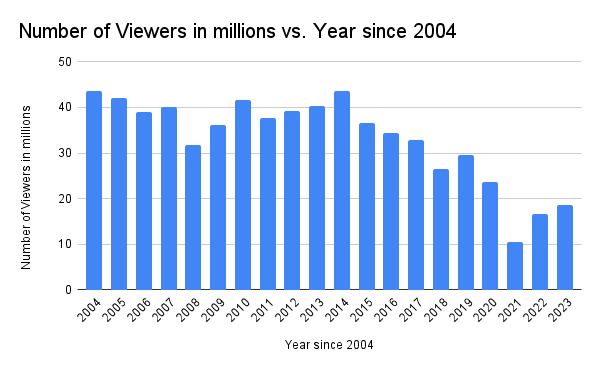 For almost 100 years the Oscars have been at the forefront of movie awards, and while the times have changed, have the Oscars changed with the times? The Academy Awards show has had many highs and lows, but since the pandemic there has been low viewership. Is this indicative of the movie industry as a whole? And do the Oscars need to change in order to remain relevant?
The Academy Awards have had a fairly consistent viewership from 2000 to 2017, ranging from 46 million to 31 million viewers, but in 2018 it dipped to about 26 million according to Statista. In 2018, the nominees and winners of the Academy Awards were big names: Jordan Peele's "Get Out" with $175 million in the box office, Adrian Molina and Lee Unkirch's "Coco" with $210 million in the box office and Denis Villeneuve's "Blade Runner 2049" with $92 million in the box office (all domestic). 
These titles were large, yet the viewership of the Oscars was still trending downwards. This year, the large nominees meet the same box office profits. "Top Gun Maverick" and "Avatar: The Way of Water" each made over $600 million in the box office, and "Everything Everywhere All at Once" made $73 million. Again, the movie industry is still churning out big box office hits, so what is the reason for the drop in Oscars viewership?
Over the past eight or so years the Oscars have faced criticism over lack of representation. 
"I think they should diversify their candidates or nominees," junior Yazmine Hernandez said. 
Criticism has led to diversity requirements and ratings for film nominations about the number or percentage of minority groups pictured or working in the movie. According to Newsweek, there are certain ranks of diversity of a film, meeting a A, B, C or D standard of the amount of underrepresented people working in/on a film. Newsweek says "Joker" (2019 Best Picture Nominee) wouldn't have met standard A, meaning there were no underrepresented groups in the cast or the main storyline.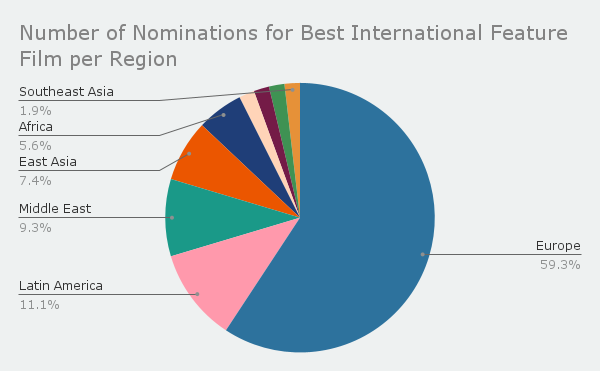 Hernandez said that she also would like to see a change in the diversity of the voting committee. While diversity requirements were added to the film categories, there aren't any public requirements on who can be invited to vote on the nominees, besides the fact that they can't be up for nomination themselves, according to Vanity Fair. Additionally, not all voting categories have requirements that voters need to watch all the movies. 
The Oscars also have one category for non-English films (international feature film), but there is a possibility of expanding to a more international audience.
"Even the foreign film ones, it's always the white people," sophomore Sonali Jain said. 
In the past ten years the Oscars have not ventured far — in nominations, 59% of international films have been from Europe, 11% from Latin America, 9% from the Middle East, and 7% from East Asia, according to Oscars.org. More than 50% of international feature nominees have been European films in the past ten years, so it is unequal to say the least. 
This year, "Everything Everywhere All at Once" sweeped the Academy Awards, winning in seven categories. In Best Supporting Actress, Stephanie Hsu and Jamie Lee Curtis were nominated for "Everything Everywhere All at Once" as well as Angela Bassett starring in "Black Panther: Wakanda Forever." Jamie Lee Curtis won best supporting actress and it was her first time winning an Oscar, but there was contention about who should have won. 
"I think that Angela Bassett should have gotten it. She was really good," Jain said. 
The Oscars also had a performance of "Naatu Naatu" from "RRR" live on stage along with a few special events. Despite their efforts, viewership didn't rebound to pre-Covid numbers, but there was some improvement. According to The New York Times, 18.7 million viewers tuned in on March 12, a 12% increase from 2022.
"It was honestly pretty boring this year," Jain said, "I mean, they were missing the action." 
The Academy Awards have been attempting to target audiences from companies such as Letterboxd, a movie review platform with a young audience ranging primarily from 18-34. They have also expanded broadcasting to Europe through Disney+ and posted acceptance speeches on social media. 
Jain said that if the Academy Awards want to expand internationally they should include more international nominees.
"It's supposed to be like the biggest movie awards. Why is it only the Americans get nominated and not everybody?" Jain said.