'I'm Glad My Mom Died': a dark, emotional, and humorous read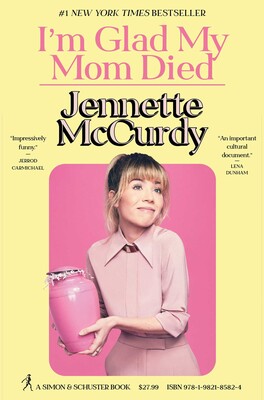 Content Advisory: "I'm Glad My Mom Died" covers sensitive topics including eating disorders, addiction and emotional, physical and sexual abuse.
Watching television you always expect the actors to be living a glorious life: living large in Hollywood with no worry whatsoever. However, appearances can be deceiving. 
Child actress Jennette McCurdy's memoir prompted a few head turns when it was first announced.
In her new memoir, McCurdy unpacks trauma and explains just why "[She's] Glad [Her] Mom Died."
"I'm Glad My Mom Died" begins with the McCurdy family surrounding their comatose mother at the hospital. Siblings Marcus, Dustin, Scott, and Jennette take turns informing their mom of big events occurring in their lives right now in hopes of waking her from her coma. After the three brothers each go, McCurdy reveals she's brought a piece of information so groundbreaking, something so "sure [her mom] cares about more than anything." She announces that she has hit her mom's dream weight for her, 89 pounds.
All of this happened in the first two pages. A chilling start, it piqued my interest and I couldn't put the book down. 
Looking at those two pages and the title alone, I thought it made for a sudden and captivating start. McCurdy wasted no time in showing the genuineness of the book and setting the melancholic tone that is prevalent throughout the memoir. 
I say genuineness because that's exactly what it is. This isn't just the story of someone's life, it's more private; almost like a one on one conversation. The way the chapters aren't direct continuations of one another but almost branch out the story add onto this. It feels less robotic than your average book. 
The final three paragraphs of the first chapter set the tone for the rest of the memoir. A story of complicated mother-daughter "love." The reader can expect a bumpy ride of ups and downs that ultimately lead to a tangled relationship between McCurdy and her mom.
The book then picks up during McCurdy's sixth birthday party in a section titled "before," when we learn her mom was diagnosed with stage four breast cancer when McCurdy was two. McCurdy claims her mom has an obsession with retelling her cancer survival story.
This is the first sign we see of her mom's narcissism and victim complex. It's made incredibly clear later on that her mom almost desires to be pitied. 
McCurdy's mom has always wanted to be an actress but she wasn't able to pursue this and she pushes her dream onto McCurdy. She is ultimately forced to audition in small roles to make her mom happy.  
Over the past few chapters we have seen McCurdy do anything to please her mom. The way she acts and talks at such a young age shows how she was forced to grow up faster than her brothers. 
Following some more auditions and background work, McCurdy mentions her mom started to get more obsessive about McCurdy's appearance. 
After a while, McCurdy's mom faces some health problems which leads McCurdy down a spiral. And as each day her mom remains in her coma, she struggles more and more with substance abuse and binge eating. 
I won't lie and say I didn't cry while reading this because I did. It tears my heart seeing how much McCurdy loved her mom despite the way her mom treated her. 
Nearing her mom's death, McCurdy engages in erratic and spontaneous behavior. She feels guilt for not being there enough for her mom and for not doing the best she could for her. This is entirely false. McCurdy went above and beyond for her mom but her mom acts as if she is always the victim and manipulates others into feeling sorry for her.
Her mom then passes and the book is now in a section titled "After."
McCurdy continues to battle all the guilt and trauma her mom caused her and begins to recover. 
The next few chapters are heart-warming as we see McCurdy in control, happy, and surrounded by loved ones. She comes to terms with her past and reflects on her relationship with her mother and the pain she caused. 
I had never thought I would ever find a memoir interesting. I'm not sure why I thought that. Maybe it comes from the fact that non-fiction has never been one of my favorite genres. But I decided to read this memoir nonetheless and I wasn't disappointed. It was a great book and I have no regret buying it. McCurdy's story is an inspirational one. It's a perfect example of how recovery isn't a perfect line and that there will always be good days and bad days. It's different for everyone. 
I give McCurdy the highest appraisal I can and I congratulate her for this memoir. Reliving trauma isn't easy and sharing trauma is even harder. She did both. 
In the 2010s when I watched "iCarly," I had no idea that she was struggling with any of this. I had assumed she was living a normal life. 
And despite the realness of it, McCurdy tells it in a way that's almost humorous. 
The way she uses humor lightens the mood, on top of the genuineness of the memoir – making it seem as if she's telling the story right in front of us.
We saw the life McCurdy lived with her abusive mother, – her aggressive and complicated form of love with her mom. Everything she did to make her mom happy was never enough even if it made her miserable. Everything her mom demanded of her and the pressure that came with it: The eating disorder her mom "taught" her, the substance abuse caused by her mom, the guilt and trauma inflicted on her, it's a raw depiction of parental abuse. It's heartbreaking. 
In this beautifully crafted memoir, we see the dark life she has had, warts and all – and the inspiring recovery from it all.