Lane's top students bid farewell
Natasha Gonzalez – Div. 156 – Valedictorian
Amidst the trials and tribulations of the pandemic, Natasha Gonzalez, Div. 156, has pushed herself to become valedictorian of the class of 2021. Planning to major in biochemistry on the pre-med track at Northwestern this fall, Gonzalez hopes to become a dermatologist after medical school.
"I really want to be a dermatologist. … I think that's going to be a way that I feel like I can make my impact. I also really want to do something with sustainability, if I could solve climate change that would be awesome but I think it would be cool to incorporate that somehow," Gonzalez said.
As vice president of the student council last year and current president of the student body, Gonzalez has made her mark on Lane through her involvement in her academics and extracurricular activities. 
Sol Nolasco, a college freshman who graduated from Lane last year, praised Gonzalez for her ability to manage her wide range of activities.
"She was part of Cuban Club, España Club, Student Council, Drama Club, Key Club, Environmental Club, Cross Country, Track, a Star Mentor, and still managed to have her grades up and spend time with her family and friends," Nolasco said.
Nolasco also attested to Natasha's personality and highlighted the impact Gonzalez had on her and her peers.
"Natasha is also incredibly sweet, compassionate, and loving. She would do anything to cheer her friends up, her classmates, and even strangers," Nolasco said.
As a social butterfly, Gonzalez found a home at Lane and expressed her fondness for the ability to make friends at a large school.
"I love the fact that there's so many people. Being able to make a new friend in the hallway or say hi to someone just brings me so much joy," Gonzalez said.
As a rising first generation college student, Gonzalez explained that her parents instilled an importance of doing her best with her academics. However, Gonzalez also found her own priorities with school work and motivated herself to do better academically.
"I think as for myself, school was something since middle school that I put a lot of effort into. For myself, I wanted to continue that." Gonzalez said.
Phong Nguyen – Div. 173 – Salutatorian 
Social justice, the arts, and a passion for doing better. Phong Nguyen, Div. 173, is the salutatorian of the graduating class of 2021. Headed off to Stanford in the fall with plans to double major in Political Science and Asian American studies, Nguyen wants to become involved in policy making specifically for Southeast Asian communities.
Having immigrated from Vietnam at the age of four, Nguyen has always had a strong connection with his culture.
 "I always remember and remind myself that everything I do is for Viet culture," Nguyen said.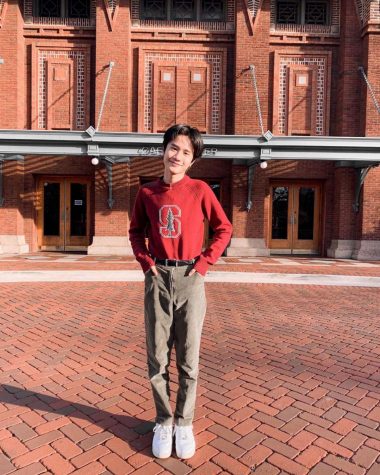 Despite the hardships that come along with uprooting and moving across the globe, Nguyen has made it a priority to focus on his education and set his own goals. 
"My family didn't come to America to enjoy the aesthetic or have this American Dream, it was initially and solely for the pursuit of my higher education," Nguyen said. "I realize my parents made these sacrifices for their children. I use that as drive, not to feel an internal obligation to do whatever they want, or do whatever they expect me to do, but to use that as motivation to push me to be the best I can be and succeed in my own rights and always thrive in any field that I wish to pursue."
Ms. Allen, Drama I teacher and Nguyen's advisory teacher, noted that he immediately stood out to her during his freshman year. 
"My first impression of him was that he cared deeply about what he did, about expressing himself and providing a space for other people to express themselves," Allen said. 
After finding out about Nguyen's hopeful career path, Allen was all but surprised. 
"Now knowing what he's going to go into, I'm like 'Yup, here's point A, here's point B, he's done other stuff along the way, but he has really found what I think he will be amazing at in life," Allen said. 
Fatima Malik, Div. 184, a close friend of Nguyen, highlighted his talents and ability to branch out in regards to social and extracurricular aspects.
"He can act, he can sing, he can speak multiple languages, he's a social activist. To be able to do that all while maintaining some of the best grades, it's just spectacular and inspiring," Malik said.
Malik also praised Nguyen's drive and multitude of passions.
 "I think it's honestly amazing because he takes advantage of the opportunities given to him, which has inspired me to try and reach out and do more things in life because he really does live life to the fullest," Malik said.
In his future college path and career, Nguyen wants to be able to better the representation of Asian American people within Western media as a first generation college student. 
"I just want to be able to prove that Viet people have a place in this world, and they can make a difference in this world in any type of industry and in any type of way," Nguyen said.