'SOUR': Olivia Rodrigo's grand debut album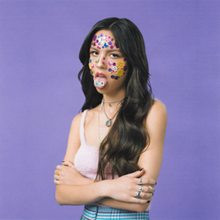 After going viral on pretty much every social media platform this fall with her first single "drivers license," Olivia Rodrigo has taken a huge leap forward in her music career following her role in "High School Musical: The Musical: The Series" as Nini Salazar Roberts on Disney+.
With her May 21 release of her debut album "SOUR," Rodrigo has stunned listeners with her incredible lyricism and vocal abilities. "Brutal", the opening track to the album, is a stark contrast to the singles she has released, but in the best way possible. The gritty, grungy backing track, along with Rodrigo's pop rock vocals, is the perfect blend of teen angst and self-discovery throughout her teenage years. 
"Traitor" touches on the pain behind not getting cheated on exactly, but knowing that your significant other spoke to someone else during your relationship. This song reminds me of being told to not worry about a specific person, and the heartbreak of trusting someone whom you truly trusted. Rodrigo digs deep with lyrics like "You betrayed me, / 'Cause I know that you'll never feel sorry / for the way I hurt" in the chorus. She almost cries out "Guess you didn't cheat, / But you're still a traitor," which hits hard and expresses her pain after being hurt.
Rodrigo strayed from the emotional ballads that catapulted her music career, such as "drivers license," and added "good 4 u" and "jealousy, jealousy" — which are a bit more upbeat. In "good 4 u," Rodrigo shows off her duality and powerful vocals, while almost mocking her ex and how well they're doing. "Jealousy, jealousy" follows the negative impact of social media on personal image and the false front that people put on social media platforms. I really love the bridge to this song, where at the end Rodrigo sings "All I see is what I should be / Happier, prettier, jealousy, jealousy." The track outlines how social media has changed society's perception of people and the comparison that comes along with it.
In "deja vu," Rodrigo questions her ex-partner, wondering if they still think about her when they're with their new partner. She asks them "Do you get deja vu when she's with you?" alluding to their experiences that they shared and drawing parallels between their relationship and the new one her ex is in. Compared to other songs on the album, "deja vu," has such a unique sound within the track. With its light sounding backing track and small hints of sounds like an ice cream truck beeping in the beginning of the song, "deja vu" is one of the best songs on the album.
Out of the entire 11-song album, my favorite track has to be "favorite crime." Rodrigo goes perfectly through the heartbreak that comes along with falling out with a significant other. Her lyricism and symbolism throughout the song is immaculate, and somehow so spot on in capturing the longing feeling after a breakup. The bridge towards the end of the song encapsulates the nostalgia that comes along with the end of a relationship: "It's bittersweet to think about the damage that we do / 'Cause I was going down but I was doing it with you.". My favorite lyric comes at the end of the bridge: "But I say that I hate you with a smile on my face." Here Rodrigo is able to invoke emotions and long lost memories simply through her amazing lyricism.
"Happier" comes in a close second out of my favorites — Rodrigo details the quiet jealousy of an ex moving on after a relationship. She pours her entire heart into every track on the album, but this song really sticks out to me because of the emotion behind it all. The freshness of being stuck on a break up and seeing the other moving on and happier brings bittersweet feelings, and this song captures that feeling with the ballad-y backing track and Rodrigo's powerful vocals. The simple piano track clashing with the powerful emotions expressed by Rodrigo is the perfect contrast, iconic to her past tracks. Towards the middle of the song, she talks about how she picks apart the new girl her ex is dating now and says, "Like cutting her down will make you miss my wretched heart" and exudes all of the heartbreak and hopefulness for better for her ex. In the chorus, she sings "I hope you're happy / but not like how you were with me" and the emotion in her voice and lyrics brings the entire track full circle.
Ending off the album is "hope ur ok," another favorite song of mine. Rodrigo tells the story of two kids she knew that were on bad terms with their family, specifically because of their sexuality and identity. Before the bridge, Rodrigo sings, "Does she know how proud I am she was created / With the courage to unlearn all of their hatred," which stuck with me after listening over and over again. I think this song was the perfect way to end off the album. It is such a sweet ballad that is selfless and a great send off for "SOUR."
"SOUR" packs a punch within its shorter run time of 35 minutes. Olivia Rodrigo poured her entire heart and soul into this album, and from my hundreds of replays, I can definitely say this album has no skips. Every emotion that women are told to not speak about, like jealousy, envy, sadness and anger are expressed flawlessly within the album. Every track tells its own story, and does so uniquely.