Grants fund new Lane programs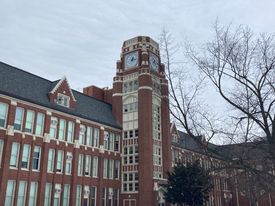 With local and federal grants coming in, Lane found itself in a unique position this summer — having extra cash.
"Well it definitely gives us a little bit of a breather because our actual budget was pretty tight," Lane Assistant Principal Sarah Hanly said. 
According to Hanly, 98 to 99% of Lane's usual budget goes to staffing, and the new grants have helped Lane fund things like open gyms this summer and test prep.
"This helps kind of offset some things that we would like to do like tutoring, things like that that actually can fall under that new grant. ACT, SAT prep — those things can go under that new grant which just helps us not have to take much of our normal budget money for that for this particular year," Hanly said.
Those are some of the initiatives being rolled out by Lane from a $348,905 federal grant, 90% of which is going to school staffing and programs for students. The grant was announced during a special Local School Council (LSC) meeting on July 14, and will allow Lane to fund initiatives – like open gyms and test prep — without having to take money from their budget.
"That money will go toward every program we can think of to support students," Principal Edwina Thompson said during the July 14 meeting.
A lot of this money already had predetermined use by the district, according to Hanly, and was called out of school time funds. 
"That [money] could be [for] programs like open gym," Hanly said. "It could be sort of anything around enrichment for camps, that kind of stuff, and then it could also be around credit recovery or academic enrichment, so things to kind of help students come into school a little bit better prepared for that."
Sophomore class president Sean Groh is happy with how Lane has been spending some of these new funds thus far.
"I do think that with open gym, students are able to get comfortable with the sport that they are dedicated to, meet new people and start getting ready for the upcoming seasons," Groh said. "And I do think that the SAT funding should help students that are taking the SAT and are ready to go to college."
The school is also bringing in $562,751 from the "Moving Forward Grant." No more than half of this grant can be used toward positions, and these new hires have to relate to Social-Emotional Learning. The rest goes towards students' needs and programming, such as replacing old technology and learning supplies, according to what Thompson said during the meeting. This grant was also announced at the meeting.
The positions Lane is looking to hire with these extra funds aim to hit a number of key areas for the school, from attendance to technology. These positions will be funded for up to two years.
"We're hiring a college and career coach, so we'll have somebody that's housed out of the CCC (College and Career Center) who can be a good resource to help students really focus on the college search process and to help seniors with college essays and that kind of thing," Hanly said.
"We're hiring additional support around tech to assist now that we're one to one. We've got a lot of extra tech work that we need to have handled," Hanly continued. "We're hiring a couple of other support personnel to help with attendance and things like that. Just to kind of ease the burden of some of the clerks since we don't have enough personnel to get everything done half the time that we need to get [things] done."