2021 Marked 50 Years of Women at Lane; now in 2022 the School is Finally Able to Commemorate their Courage
Tenacity. Resilience. Trailblazers. At an event celebrating 50 years since women were first permitted to attend Lane, those three qualities were repeatedly used to describe the first female graduating class, along with the subsequent classes, as it took a long time for women to be properly welcomed into the school after going co-ed in 1971. 
While technically 2021 would have marked fifty years, the event was postponed to June 11, 2022, due to COVID-19. However despite the setback, the Alumni Association, led by President Michelle Weiner class of 1976, worked diligently to organize the event and recognize the bravery of these women.
"We wanted to acknowledge the female graduates and recognize their courage," Weiner said. "There are six women here today who graduated in the class of '74. They transferred in as sophomores — 68 were accepted. Only 50 graduated. It was that isolating and that hostile."
In 1971, 386 women were accepted as freshmen in addition to the minute number of female sophomores. Some examples of hostility towards women include not putting mirrors in the women's bathrooms because they thought they would look at themselves all day and not allowing women to work on the cars in auto shop according to Bonnie Jones, class of 1978. 
"I remember one of my classmates was really pissed and she took auto mechanics because she wanted to know how to fix a car when she was old enough to buy a car. And she basically was relegated to keeping the wrenches shiny," said Sam Harris, class of 1975. "I don't think they ever actually let her touch an engine."
The shop teachers were particularly discriminatory, remembered Jones, when she recounted difficulties her sister faced.  She could not personally testify to the behavior of the shop teachers because she was in the music track, which meant she was not enrolled in their classes. 
"When the teacher wanted to swear he would send the girls out of the room, and then swear with the boys," Jones said.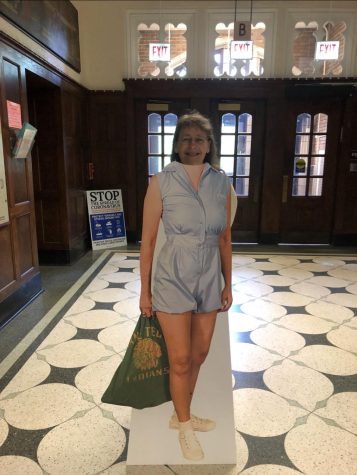 During the first few months, when the principal would go on the PA, he would start with "men of Lane," before eventually remembering women went there too, according to Harris.
One woman, Susan (Sue)  Lionikis from class of 1974, mentioned that while most of the male students were welcoming, there were still those who added to the hostility.
"When you walked down the halls you kind of didn't want to get too close to some of them because you knew that they were going to try to grope you in some way," Lionikis said. 
On top of all of that, there was also the lingering memory of the march by 1,500 students and parents to Chicago's Board of Education headquarters to protest the admittance of women into Lane on March 2, 1971. That sort of resistance could not be forgotten.
"For some women it was horrible — they transferred out. For other women, it was like the world opened up," Weiner said.
Despite the countless difficulties, the pride the women had for the school due to the education they received and the opportunities provided encouraged many to remain. 
"Now we can look back and realize the stuff that happened, what we went through, the love of Lane, and the opportunities, and I think that it is a great school," Lionikis said.
Their impact and courage was commemorated at the June 11 event in numerous ways. It began with an open breakfast buffet in Room 113, where many of the graduating classes took pictures together. Outside of this room other alumni were milling around the area outside of the main offices where there were old newspaper clippings from school and city newspapers that highlighted the school's sexist history. There were also banners with information that set the stage for the time period and the discourse surrounding making school co-ed and the fight for women's rights. 
"I think the thing that is important now is that we were so young. We didn't even realize kind of the impact of it, how it was a big deal," Lionikis said.
At a table there were copies of a piece called "Notice of Walkout," in which the author wrote, "More action should be taken to protest this ever increasing menace," in reference to allowing women into the school.
Naturally, small green buttons with the words "I'm just a menace!" printed on them were being given out.
In addition to receiving buttons and browsing old papers, many people stopped to take pictures of a plaque hanging up on the wall between the main office and Room 113. This plaque recognizes the historic moment, September 8, 1971, that "female students admitted to Lane Tech crossed the threshold." 
Around 9:30 a.m., an hour into the event, people were directed to the auditorium, where several people gave speeches, including Ertharin Cousin, class of 1975, who was executive director of the United Nations World Food Programme from 2012 to 2017. 
Cousin briefly discussed that beyond discrimination faced as a woman, as a Black student there was also racial tension to contend with, as she mentioned the lunchroom was as segregated as the streets outside.
Yet pride in being a graduate of Lane remained as she repeatedly quoted the school motto, "Wherever you go, whatever you do, remember the honor of Lane," and its relevance in her life.
At the end of all of the speeches everyone in the auditorium stood up and sang the school song, maybe a little off key, but their voices remained sure.
Beyond commemoration, this event was also a way for former graduates to reconnect after so long apart. For some, it was a way to make connections for the first time, as it was difficult to make friends with other women when there were only one or two of them in a class.
"There was not a community because we didn't really have that much of an opportunity to be together. And I think that is the saddest part. You know many of us from the beginning, talked about how lonely it was," Lionikis said.
With this event, though, it provided a gateway to forming connections amongst the graduates and reflect on their time here.
"This reunion started up and I reached out to a few, and it's been wonderful reconnecting," Lionikis said. 
Ultimately, Lane remained their home, and even though there have been changes to the building, which they were able to see on the tours held after the speeches, the spirit of the school remains. Now, with the event, that spirit is renewed and the community has been made stronger.
"We are a family that was brave enough to say open the doors and let us in," Cousin said.
CORRECTION: A previous version of this story stated that Ertharin Cousin was the only Black woman who spoke at the event. She was one of three Black women speakers at the event. This correction has been updated in the story.