The Champion's guide to Halloween movies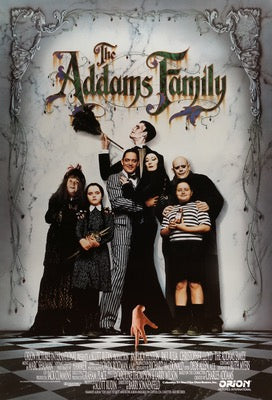 With Halloween just around the corner, the fall spirit and festivities are in full swing. So why not celebrate with some spooky movies? Grab your favorite fluffy blanket, and maybe even some apple cider, and enjoy our Halloween favorites.
'The Addams Family' (1991)
Written by Nina Figurelli
"Weird is relative" should be everyone's motto. 
"The Addams Family" is a movie adaptation of the original 1960s sitcom that follows the experiences of a peculiar family. The odd, aristocratic family consists of Gomez (Raul Julia) and Morticia (Anjelica Huston) Addams, their two children Wednesday (Christina Rucci) and Pugsley (Jimmy Workman), Grandmama (Judith Malina) and the house butler, Lurch (Carel Struycken).
Gomez's long-lost brother, Fester (Christopher Llyod), has returned and, of course, the Addamses are ecstatic. But Morticia isn't buying it, as she suspects that this man claiming to be Fester is an imposter. With his inability to recall memories of Fester's past, something seems fishy.
Morticia's suspicions are confirmed when Wednesday discovers that Uncle Fester's impersonator has been working with a lawyer to get the Addams Family evicted from their Victorian home and is attempting to steal the family fortune.
With the iconic characters that we all know and love, this is a family-friendly Halloween movie classic. It's also really unique in the sense that it stays true to the original sitcom. "The Addams Family" perfectly captures the aura and personality of the characters through the great casting and wicked script.
The dark comedy definitely induces nostalgia and brings back a wave of memories from my childhood. I was always intrigued by the mysterious makeup and costuming, and the humor is top-tier, to say the least. While there is a moving disembodied hand running around, it's not your typical scary movie where it's completely indulged in the eerier things; "The Addams Family" also has its own take on the importance of family which makes the movie way more light-hearted, sentimental and fun.
Don't get me wrong, it gets corny and a little dramatic at times, but what Halloween movie doesn't? Plus, no one can deny that "The Addams Family" theme song is catchy. So curl up on the couch, snap your fingers along with the music and enjoy this movie with the family.
'Scream' (1996) 
Written by Annie Fenner
"Scream" does something most films tend to shy away from — it's a movie about movies. 
This 1996 classic follows the small town of Woodsboro as it reels after a series of brutal killings. The lead of the movie is high schooler Sidney Prescott (Neve Cambell) whose struggles with memories of the past and current brutalities are traced throughout the movie. 
The audience quickly learns that the killer in question is drawing inspiration from countless horror classics, including "Halloween," "Nightmare on Elm Street" and the "Silence of the Lambs." The continuous references to horror movies we all know and love allow the audience to feel like a part of the story. 
As the town works to uncover the killer, the audience is left mistrusting everyone living in the town: everyone is a suspect. 
I usually find that scary movies begin to fall flat when they take themselves too seriously. That is one of the highlights of this movie: it pokes fun at itself as it goes. The movie calls out all of its ludicrous situations, even basing multiple plotlines on the ridiculousness of classic horror movie cliches. 
While this movie is by no means free of cringe-worthy dialogue and cheesy moments, its self-awareness helps it rise above these obstacles and become a truly fun movie to watch. 
The countless references to classic horror films and plotlines make this movie perfect for any aspiring horror movie buff. Whether you are looking for a suspense-filled scary movie or a fun teen classic, "Scream" is a fantastic choice for any spooky fall night. 
'Corpse Bride' (2005)
Written by Nina Figurelli
This movie is a Tim Burton classic featuring stop-motion claymation and a distinctive character style. And let's be honest with ourselves, can we really enjoy Halloween without watching a Burton film? 
"Corpse Bride" follows the timorous Victor Van Dort (Johnny Depp) as he prepares for his arranged marriage with Victoria Everglot (Emily Watson) when, suddenly, he has an unexpected encounter with a bride from the land of the dead. 
Emily (Helena Bonham Carter), also known as the Corpse Bride, was suspiciously murdered after eloping. Now, she is "dead set" on marrying the betrothed Victor. However, Victor must find a way to return to the living world before Victoria is arranged to marry a new man, the evil and money-hungry Barkis Bittern (Richard E. Grant).
First, Victor must convince Emily that a marriage between the two of them would never work out, since they are a little too different, and let him return to his normal life without shattering her heart. While Emily is a very fragile character, all she wants is the best for Victor. But, don't fret, because the Corpse Bride gets her happy ending too.
Although this movie might seem like a macabre story at first glance, it is a heartwarming tale about an unlikely friendship and the trials and tribulations of love.
I will never get tired of this Victorian-era animation. To be honest, when I was younger I used to find this movie pretty terrifying. But I am so glad that I grew out of that phase because now this is my staple spooky season movie. Not to mention the music is to die for (pun intended). From the singing and dancing skeletons to Victor and Emily's piano duet, you will surely be left grooving with the music.
If you're a fan of Tim Burton films, or even if you're not, get yourself some popcorn and candy corn, and add "Corpse Bride" to your Halloween watchlist. 
'Jennifer's Body' (2009)
Written by Amanda Opel
"Jennifer's evil."
"I know." 
"No, I mean she's actually evil, not high school evil." 
Originally met with negative reception, now considered a cult classic horror flick, "Jennifer's Body" explores female coming of age in an unconventional sociocultural criticism of teenage girlhood. 
After a demon takes possession of her body, popular cheerleader Jennifer Moody (Megan Fox), begins to feast on the flesh of teenage boys to keep her demonic self alive. Jennifer's shy and not-so-popular best friend, Needy (Amanda Seyfried), tackles the hardships of dealing with a homicidal best friend and her own dwindling sanity. 
The classic revenge story follows, with Jennifer seeking retribution after being kidnapped and sacrificed by the indie-rock band, Low Shoulder. I appreciate how "Jennifer's Body" explores the deeper meanings and relationships behind girlhood with some gore, which has been a common sub-genre for horror movies centered around the female coming-of-age. 
The film uses Jennifer's cannibalism to comment on assault, the intricacies of female friendships, the transition to womanhood and how that transition plays out in a patriarchal society. Ironically enough, the movie's initial criticism was due to the audience's negative attitude towards its "girly" appearance. 
I've always been a fan of horror movies that centered around the concept of "women in horror" and appreciate their unique way of telling their stories. 
This movie is basically a 2000s time capsule that radiates nostalgia. With the iconic fashion and the fairly likable characters, there's not much to dislike about this flick. I mean, who can forget Jennifer's heart-patterned pink tracksuit jacket and low-rise jeans? To this day that outfit remains a popular Halloween costume. 
"Jennifer's Body" has a cleverly written script that provides the perfect amount of dark comedy that contrasts the grotesque nature of the film, which makes it the perfect option for an October movie night. 
'ParaNorman' (2012)
By Nina Figurelli
He sees dead people, and no he is not Cole Sear from "The Sixth Sense".
Norman Babcock (Kodi Smit-McPhee) is a middle school outcast who can communicate with the dead. Of course, no one believes him, except for his best friend Neil (Tucker Albrizzi), and Norman is an easy target to become the town joke.
But when the ghost of Mr. Prenderghast (John Goodman), Norman's great uncle, visits Norman to warn him of a witch's curse, he is left with no other choice than to save the town using his strange abilities. Many centuries ago, a witch was wrongfully condemned to death but the curse she left behind is now causing zombies to rise from their graves and haunt the quiet town of Blithe Hollow.
Now, Norman must team up with some of his worst enemies, including his sister (Anna Kendrick), to fight zombies and adults in order to keep the witch's curse from invading his home and save the town from destruction.
This stop-motion monster movie is the epitome of horror comedy. The satirical and unforgettable characters are what make this movie. The witty and humorous script combined with the spooky storyline and a couple of jump scares makes this animation a great pick if you are looking for something light and a little less intense this fall season. 
Plus, for any history buffs out there, "ParaNorman" has some interesting references to the Salem Witch Trials that make the movie extra mysterious and perfect for Halloween festivities. 
Not to mention, it's no surprise that the artistry in this movie is amazing since Chris Butler, who is the director and writer of "ParaNorman", was also the storyboard artist for "Corpse Bride" and "Coraline".
If you are looking for a Halloween animation with amazing graphics and some PG-13 humor to celebrate the spooky season, then "ParaNorman" might just be for you.