Artist of the Issue: Michael Hardman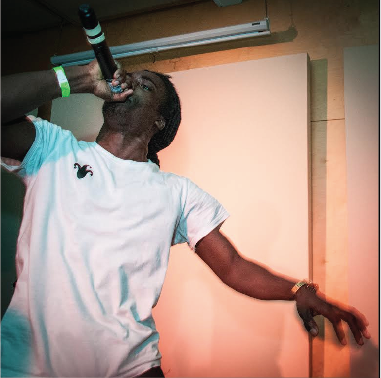 Michael Hardman, Div. 578, found inspiration to become a rapper from Lil Wayne in 2008.
"When I was a little kid, I wanted to be Lil Wayne when he was at his peak. I was like, 'Wow. His charisma.' He was making the hottest music," Hardman said.
However, he does not cover the same lyrics that Lil Wayne usually does. Hardman covers love, politics, and conflicts in Chicago in his lyrics. His goal is to connect to the students of Chicago with his music.
"It was just crazy. I'm getting flown out to do music, which is really cool. I'm doing what I love," Hardman said. "The promoter was like 'Hey, I like your music.' I performed for a Thanksgiving music festival. It was weird. California people are weird."
Hardman had humble beginnings with rap in a sixth grade hip-hop class. He started rapping professionally only a year ago. Since his start, he has been flown out to California for a festival and spends his free nights in a studio recording his music.
Hardman has seven songs that can be found on Soundcloud. His favorite is a soon to be released song entitled, "Hypnotic."
Hardman met his producer, Apollo Rosi, through another Lane student.
"We're the bestest of friends. He's a classical pianist," Hardman said.
He hopes that his success with music will continue and will be able to make rapping his career.
"The way things are going right now, I definitely have potential to be bigger than I am. If it does blow up, this is what I want to do for the rest of my life: make music and create," Hardman said.
Hardman is also in an artist collective, or group, named "Value Your Gift." The collective has singers, drawers, photographers, and writers. It includes Lane's and other students.
"We want to spread a message about people to stop putting each other down and value what you can do. I'm the ringleader so I'm trying to spread the message of that," Hardman said. "The group came about because I'm trying to brand me as an artist as something good."
Hardman appreciates his fans and listens to what they want and have to say.
"They're nice. They come out the shows. That's all I want is more people to listen to my music," Hardman said. "I promise they will like it and if they don't I'll make it better. It's all about growth."
Soundcloud: https://soundcloud.com/commonwealth1
Youtube:  https://www.youtube.com/channel/UCXjZ0o7dg0Uj1_WYxGNJ-Cw